Evagoras Lanitis Centre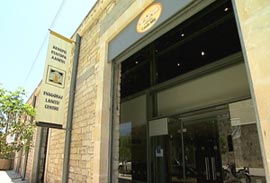 The Evagoras Lanitis Centre comprises one third of the Carob Mill, which is one of the largest, if not the largest, listed industrial building in Cyprus.
This area of the building was originally used for the storage of Carob products that used to be processed through the carob crushers. The milling equipment is situated in the central bay of the building and has been restored as a carob museum. This large expanse of over 1400 sqm unobstructed space was ideal for housing this multi-functional centre. The centre consists of a main entrance hall West of the Medieval Castle, a second entrance from the parking area, storage space and washroom facilities.
Address
Evagoras Lanitis Centre
Vasilissis Street
(Medieval Castle Area)
Limassol
,
Limassol
Cyprus
Contact Details
Upcoming events for this venue
There are currently no upcoming events for this venue.
Past events for this venue