m.CyprusEvents.net- Cyprus Events on your Mobile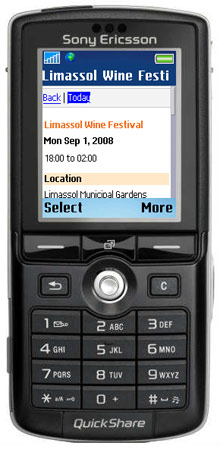 If you are away from your computer and you would like to find out what events are happening and where now you can. All you need is your mobile phone and in no time you will be browsing the upcoming events for the locations and categories of your choice.
We created m.CyprusEvents.net, a light and fast version of CyprusEvents.net, designed specifically for the small screen of your mobile device.
Every event submitted at CyprusEvents.net is automatically included at m.CyprusEvents.net along with an easy navigation to help you find the upcoming events that you want while on the go.
How to use m.CyprusEvents.net
To use our mobile website you need a web enabled mobile phone, a web enabled PDA or another mobile device which is able to browse the web. Virtually all mobile phones sold during the last few years are web enabled. Simply enter m.CyprusEvents.net as the URL of the web/wap* browser of your mobile phone to visit our website.
If you have not used the web feature of you mobile phone before this is a great opportunity for you to try it out so consult the manual of your mobile device for the setup instructions. If you are a client of Cytamobile-Vodafone you can simply send an SMS to the number 8000 with the message ON WAP and soon after you will receive an SMS with the settings that will be automatically applied to your mobile phone.
m.CyprusEvents.net Tips
As mentioned earlier the m.CyprusEvents.net website was designed with a mobile phone in mind. Following are some tips that can make your experience with m.CyprusEvents.net even more enjoyable.
Every navigation link has a number next to it. By pressing this number on your keypad you can immediately follow the link without the need to select it first. Here are the five keypad shortcuts:
Pressing (1) on your keypad will take you to the Previous Day if you are browsing the events list, or take you back to the events list if you are viewing the Details page of an event.
Pressing (2) will take you to the events list for "Today".
Pressing (3) will take you to the Next Day of the events list.
Pressing (4) on your keypad while in the events list takes you to the "Event Filter" page. From here you can select the district(s) and/or categories that you are interested in. This is very helpful since you will download and view only what you are interested in, and nothing that you are not. At any point you can go the Event Filter page again to modify the filter or remove it completely.
Pressing (5) while in the events list will change language between English and Greek.
*Note: m.CyprusEvents.net is build using the WAP 2.0 specification. If you have an older mobile phone it might only support WAP 1, making it incompatible with m.CyprusEvents.net.
The m.CyprusEvents.net website, just like CyprusEvents.net, is a work in progress. If you find any bugs or have suggestions on how we can improve our website to better meet the needs of our visitors please feel free to contact us.