The Man Who Knew Infinity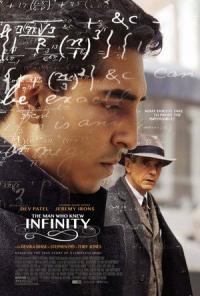 Growing up poor in Madras, India, Srinivasa Ramanujan Iyengar earns admittance to Cambridge University during WWI, where he becomes a pioneer in mathematical theories with the guidance of his professor, G.H. Hardy.
Cast:
Jeremy Irons (G.H. Hardy)
Dev Patel (Srinivasa Ramanujan)
Toby Jones (Littlewood)
Stephen Fry (Sir Francis Spring)
Director: Matt Brown
Writer: Matt Brown
Runtime: 108 min
Genre: Drama
Rating: ΝΑ
Language: English
Production Year: 2016
The Man Who Knew Infinity Trailer
The Angry Birds Movie
An island populated entirely by happy, flightless birds or almost entirely. In this paradise, Red, a bird with a temper problem, speedy Chuck, and the volatile Bomb have always been outsiders. But when the island is visited by mysterious green piggies, it's up to these unlikely outcasts to figure out what the pigs are up to.
Cast:
Peter Dinklage (Mighty Eagle (voice))
Jason Sudeikis (Red (voice))
Maya Rudolph (Matilda (voice))
Josh Gad (Chuck (voice))
Director: Clay Kaytis, Fergal Reilly
Writer: Jon Vitti
Runtime: 95 min
Genre: Animation, Comedy
Rating: K
Language: English / Greek
Production Year: 2016
The Angry Birds Movie Trailer