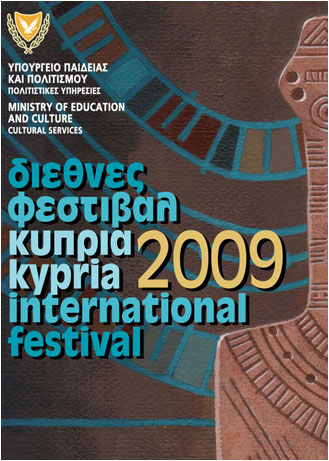 The leading cultural event of the island, the "Kypria" Festival, is hosting once again this year the best musical, dance and theatrical performances. The festival which has been committed to excellence for many years now, will begin the first week of September. This year's agenda includes 11 exclusive events of high cultural standard performed by well known and acclaimed artists and groups. The festival will commence on September the 1st and will continue up until October the 4th. The events will take place in all major cities of Cyprus.
Ticket sales begun on July 13th, 2009 at the following Box Offices:
NICOSIA:
Strovolos Municipal Theatre, Tel. 22313010
LIMASSOL:
(a) Box Office at 158 Irene Street, Tel. 25878744
(b) Rialto Theatre, Tel. 77777745
LARNACA:
Larnaca Municipal Theatre, Tel. 24665795
PAPHOS:
KEPED, Tel. 80008181
Gereral Information, Tel. 25878744
Tickets will also be sold at theatre's box offices the night of the performances. Ticket prices range from €6 to €18.
Program
Cyprus Youth Symphony Orchestra "Shakespeare Inspires"
Tuesday, September 1 – Larnaca Municipal Theatre
Wednesday, September 2 – Strovolos Municipal Theatre
The Orchestra of Colours – Manos Hadjidakis: "Songs With and Without Words"
Wednesday, September 2- Curium Ancient Theatre
Thursday, September 3 – Makarios III Amphitheatre, Strovolos
Friday, September 4 – Larnaca Pattichion Amphitheatre
Compania De Danza Española – Aida Gomez "Carmen"
Tuesday, September 8 – Rialto Theatre, Limassol
Thursday, September 10 – Strovolos Municipal Theatre
Umoja "The Spirit of Togetherness"
Wednesday, September 9 – Makarios III Amphitheatre, Strovolos
Friday, September 11 – Limassol Municipal Garden Theatre
Saturday, September 12– Castle Square, Pafos
Vakia Stavrou "Into the Seas of Songs, a Journey"
Tuesday, September 15 – Pallas Theatre, Nicosia
Wednesday, September 16 – Rialto Theatre, Limassol
Regional Theater of the Municipality of Kozani "Don Quixote"
Thursday, September 17 – Makarios III Amphitheatre, Strovolos
Friday, September 18 – Larnaca Pattichion Amphitheatre
Theater Diadromi "The Two Orphans by D'Ennery"
Friday, September 18 – Makarios III Amphitheatre, Strovolos
Saturday, September 19 – Limassol Municipal Garden Theatre
Sunday, September 20 – Larnaca Pattichion Amphitheatre
Giorgos Karvellos – Koulis Theodorou "The Tales of Hambis"
Tuesday, September 22 – Strovolos Municipal Theatre
Wednesday, September 23 – Rialto Theatre, Limassol
Thursday, September 24 – Larnaca Municipal Theatre
Dulce Pontes "Moments"
Thursday, September 24 – D' Avila Moat, Nicosia
Friday, September 25 – Castle Square, Pafos
pelma.lia haraki "Party Animals"
Saturday, September 26 – Larnaca Municipal Theatre
Tuesday, September 29 & Wednesday, September 30 – Rialto Theatre, Limassol
Saturday, October 3 & Sunday, October 4 – Strovolos Municipal Theatre
Cyprus Symphony Orchestra "Human Voice"
Sunday, September 27- Strovolos Municipal Theatre
Monday, September 28 – Rialto Theatre, Limassol