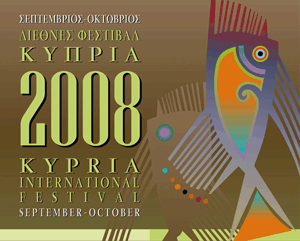 This September, locals and tourists can look forward to two months of top quality performances as part of the annual InternationalKypria Festival.
Organised by the Ministry of Education and Culture, a select panel was placed in charge of choosing the very best out of 89 proposals from various local and international companies.
With a final selection of 14 shows to be staged at theatres around Cyprus, the festival is geared towards a wide audience, with a variety of theatre, dance and music performances on the agenda.
Approximately €1.5 million has been spent organising the event in total, with great attention placed on pleasing all tastes.
"There is a plethora of options to choose from," says Education Minister, Andreas Demetriou. "We have tried to make use of special venues of historic and archaeological importance to stage the events including Aphrodite's Temple in Kouklia and the Ancient Curium Amphitheatre in Limassol."
The festival will begin on September 1 at the D'Avila moat in Nicosia with a concert dedicated to the life and works of late Cypriot composer, Marios Tokas. Crowds will get to hear the sounds of the Marios Tokas orchestra along with singing by Greek stars, Giorgos Dalaras and Stelios Dionysiou.
"We have not chosen works directed towards a niche audience but instead aim for the performances to appeal to young and old crowds from all walks of life," added Demetriou.
"The aim of the festival is to educate and enrich the life of the general public while giving them the chance to see the very best of what is out there without being too extreme in our choices. We have certainly tried to be innovative but we cannot stray too far away from things that appeal to the wider audience."
Other noteworthy performances coming up as part of Kypria 2008 include a concert by the German star, Ute Lemper, renowned worldwide for her interpretations of Berlin cabaret songs.
Also on the festival agenda is a concert by the New Moscow Opera, a fun tap-dancing show by the acclaimed Australian Tap Dogs group, and a dance performance by the Russian Boris Eifman Ballet Company.
Source: Cyprus Mail
Click here to view the details of all Kypria 2008 Events.
Tickets are for sale at the following locations:
Nicosia
Ticket Center of THOK., Tel 77772717
Limassol
Cash desk at Eirinis Street 158, Tel 25878744
Patticheio Municipal Theatre Limassol, Tel 25343341
Rialto Theatre, Tel 77777745
Larnaca
Municipal Theatre of Larnaca, Tel 24665795
Paphos
Citizens Help and Information Center, Tel 80008181
Also, tickets will be sold at the entrance for each event venue.
Please note that for  the event of 1st September 2008 «Tribute to Marios Tokas» entry will be free.
Event Programme:
Date
Event
Venue
01/09/2008
A Tribute to Marios Tokkas
D'Avilla Moat
Nicosia
02/09/2008
Mature Youngsters
Cyprus Youth Symphony Orchestra
Strovolos Municipal Theatre
03/09/2008
The Karamazov Brothers
Eifman Ballet of St. Petersburg
Rialto Theatre
Limassol
04/09/2008
The Karamazov Brothers
Eifman Ballet of St. Petersburg
Strovolos Municipal Theatre
06/09/2008
Aphrodite Kyprogenia
By Faidros Kavallaris
Aphrodite's Temple Kouklia
07/09/2008
Dein Perry's Tabdogs
Makarios III Amphitheatre
Nicosia
09/09/2008
Dein Perry's Tabdogs
Municipal Garden Theatre
Limassol
10/09/2008
Cavalleria Rusticana & I Pagliacci
The Kolobov Novaya Opera Theatre of Moscow
Rialto Theatre
Limassol
12/09/2008
Cavalleria Rusticana & I Pagliacci
The Kolobov Novaya Opera Theatre of Moscow
Strovolos Municipal Theatre
19/09/2008
Bacchae
National Theatre of Northern Greece
Makarios III Amphitheatre
Nicosia
20/09/2008
Bacchae
National Theatre of Northern Greece
Makarios III Amphitheatre
Nicosia
22/09/2008
Frogs
National Theatre of Greece
Strovolos Municipal Theatre
24/09/2008
Frogs
National Theatre of Greece
Kourion Ancient Theatre
26/09/2008
Angels Over Berlin & Paris
Ute Lemper
Strovolos Municipal Theatre
27/09/2008
Angels Over Berlin & Paris
Ute Lemper
Rialto Theatre
Limassol
30/09/2008
Soul of the Gypsy
The Gypsy Devils & Cyprus Symphony Orchestra
Strovolos Municipal Theatre
01/10/2008
Soul of the Gypsy
The Gypsy Devils & Cyprus Symphony Orchestra
Larnaka Municipal Theatre
05/10/2008
Music & Songs of the Mediterranean
30 Guitars Debrecen, Budapest & Savina Yannatou
Markideio Municipal Theatre
Pafos
06/10/2008
Music & Songs of the Mediterranean
30 Guitars Debrecen, Budapest & Savina Yannatou
Strovolos Municipal Theatre
07/10/2008
Music & Songs of the Mediterranean
30 Guitars Debrecen, Budapest & Savina Yannatou
Larnaka Municipal Theatre
08/10/2008
Music & Songs of the Mediterranean
30 Guitars Debrecen, Budapest & Savina Yannatou
Rialto Theatre
Limassol
08/10/2008
Jazz with the Petsteppers
Ancient Odeon
Pafos
09/10/2008
Jazz with the Petsteppers
Latsia Municipal Theatre
10/10/2008
Jazz with the Petsteppers
Rialto Theatre
Limassol
22/10/2008
Binari, the Spirit of the Beat
Dulsori (Korea)
Strovolos Municipal Theatre
24/10/2008
Binari, the Spirit of the Beat
Dulsori (Korea)
Strovolos Municipal Theatre
27/10/2008
Clytemnestra
Martha Graham Dance Company
Strovolos Municipal Theatre
28/10/2008
Clytemnestra
Martha Graham Dance Company
Strovolos Municipal Theatre