21st Cyprus Contemporary Dance Festival - Cyprus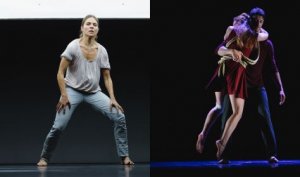 Within the framework of the Festival, on June 20th (20.30), the Cypriot performances NLE (Near Life Experience) and Whispers, choreographed by Lia Haraki and Fouli Stylianidou respectively, will be presented at Pallas Theatre in Nicosia. Both dance pieces were selected at the Cyprus Contemporary Dance Platform 2018 to represent Cyprus in this year's festival edition.
.pelma.Lia Haraki - NLE (Near Life Experience)
Lia Haraki is a contemporary artist using the body as a main tool. She is a resident artist at Dance House Lemesos. Her work has been presented internationally in festivals such as: Kalamata International Festival, Julidans Amsterdam, The Athens Festival, Royal Festival Hall London, Bozar Brussels, Unesco Paris, Aerowaves Festival-The Place London, Tanec Praha, Kleines Haus Dresden, Korzo The Hague, Euro-scene Leipzig, Stary Browar Poland, NiMAC, Halle 14 Lepzig, Nouveau Musée National de Monaco among others. In 2013 she was one of the artists that represented Cyprus in Venice Biennale for Visual Arts (special mention for the Cyprus and Lithuania pavilion) with her solo performance Tune In. In 2016 her project The Performance Shop was selected as one of 25 best practices by the European Dancehouse Network (theperformanceshop.org). It is the third year that she will be presenting her work at the Athens and Epidaurus Festival (2009, 2013) as The Performance Shop will open for a month within its framework. Her pieces Skin and The Active Spectator will be part of the programme.
"Death is the ultimate theatrical act since it is the epitome of transformation." Lia Haraki
Dance Group: .pelma.Lia Haraki
Choreography: Lia Haraki
Performance title: NLE (Near Life Experience)
Duration: 20'
Concept / Choreography / Programme Text: Lia Haraki
Performance: Rania Glymitsa
Music Composition / Sound Design: Stelios Antoniou
Scenography: Yiorgos Yiannou
Camera / Editing / Picture: Savvas Baltzis
Lighting Design: Aleksandar Jotovic
Technical Manager: Yiangos Hadjiyiannis
With the support of Dance House Lemesos
Fouli Stylianidou- Whispers
Have you ever wondered whether you ever forced yourself to stay tied up on things or situations only because it was easier for you to handle? Αlthough deep inside, you knew it was not? Have you ever found the strength to let go, to say "no" and leave? How many times have you concealed your thoughts while facing an unfair situation? Or how many times did you clench your fist to control yourself? Perhaps you have not had the courage to speak or react?
I believe, deep inside us, we all know the road to happiness. But many of us act against our own instincts, fearing the social consequences, which are so powerful that make us wonder whether we did make those decisions consciously.
Fouli Stylianidou was born in Limassol. In 2005 she joined Egribiancodanza Dance Company in Italy with a scholarship and then she was admitted to the Salzburg Experimental Academy of Dance (S.E.A.D.) in Austria. In 2009/10 she joined the SEAD dance group 'bodhi project' where she worked with choreographers Roberto Olivan (Spain), Milli Bitterli (Austria), Keren Levi (Israel), Matej Kezjar (Slovenia) and Oleg Solimenko (Russia). In 2010/11, she worked as a dance instructor at the Or University Institute MozartDeum and taught Pilates at the SEAD dance academy in Austria. She took part in the Contemporary Dance Platform in Cyprus with: Over-Under (2011), Inertia (2013), Jodeli Jodeli Doo (2014) and Look at Me (2016). In 2012 she danced at the "Big Dance Festival" in London (Siobhan Kerry) and in Re.Cycle.Dance by Loizos Constantinou in Cyprus. Since 2014 she has been working with the contemporary dance group Asomates Dynameis with choreographer Machi Demetriadou Lindahl for the following productions: A lost moment, Wonderful World, Gate, Antigone, Body Tracers and Iketides. She also danced The Red Hour, a project organised by the European Capital of Culture Pafos2017 by choreographer Alexander Michael in collaboration with the Black Box Dance Company from Denmark and choreographer Melody Putu.
Performance title: Whispers
Duration: 17'
Choreography: Fouli Stylianidou
Dancers: Loizos Constantinou, Fouli Stylianidou
Lighting design: Aleksandar Jotovic
Organisers: Ministry of Education and Culture – Rialto Theatre
When
Wednesday, June 20th, 2018
Time: Starts at 20:30
Where
Rigainis and Arsinois
Paphos Gate, Old Nicosia
Cost
€5 / Festival Pass: €20
Event Tools
Share this Event

Email to a Friend
Save to Your Calendar

Google Calendar

Yahoo! Calendar

iCal (download) (subscribe)
Note: While every care has been taken to ensure the information provided is accurate, we advise you to check with the event organisers before travelling to confirm the details are correct.