13th European Dance Festival (Limassol)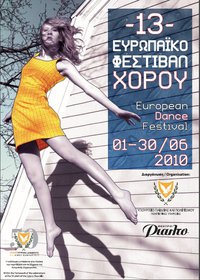 A very important international dance meeting with the participation of many European countries. A feast of contemporary dance meets all the trends, the dynamics and the new forms of the international contemporary scene through the works of representative groups of each country.
The increased level of participation by EU member states with performances and workshops is a clear indication that the Dance Festival is becoming an annual highlight of the European arts and culture scene.
The European Dance Festival will be celebrated for the 13th consecutive year in 2010 in Cyprus. It is a co-organization between the Cultural Services of the Ministry of Education and Culture and the RIALTO Theatre in Limassol with the collaboration of the Embassies of the member-states of the European Union in Cyprus.
The 2010 European Dance Festival will be dedicated to the 50th anniversary of the Republic of Cyprus. The participation of each country in the Festival will be considered as part of the official contribution of each member state in the celebrations for the anniversary.
The Festival will take place in RIALTO Theatre in Limassol and in PALLAS Theatre in Nicosia
Programme:
UNA (Unknown Negative Activity) – Greece
2 June, 20:30
Duration: 65 min.
Greece presents the Rootlessroot company with the work Unknown Negative Activity, choreographed by Linta Kapetanea and Jozef Frucek.
Man is bound to must do's.
Man endures or fights to escape
Man tries to resist
Man is the only creature that gets terrified by himself.
Man takes off himself
The self is a piece of clothing that burns the flesh.
In the misty darkness of the woods I will tell you a secret as if it was a game. Come, let me tell you the truth, you'll like it. I will whisper everything I know about the life we are afraid to believe we live. It's me, who will be eaten because I m just another product to be consumed. It's me, yourself.
Choreography and concept: Jozef Frucek/Linda Kapetanea
Created and performed by: Martha Frintzila, Jozef Frucek, Linda Kapetanea, Vasilis Mantzoukis, Edgen Lame and Marianna Tzouda
Live music: Vasilis Mantzoukis
Scenography: Dimitris Nasiakos and RootlessRoot
Text: Jozef Frucek
Costumes: Natasha Dimitriou
Light design: Dimitris Nasiakos
Photography: Orpheas Emirzas
Patterns beyond traces - Germany
4 June, 20:30
Duration: 63 min.
Germany presents the DIN A 13 company in Patterns Beyond Traces, choreographed by Gerda König.
The DIN A 13 tanzcompany is internationally one of the few dance companies working artistically with dancers with and without disability.
Patterns beyond traces is set up in the emotional field outlined between tradition and urbanity: in a world between worlds. Tradition, belief, ritual and ritualised daily grind - five dancers from Ghana with and without physical disabilities explore what has been passed on to them and reflect it within the ways of their own daily life. Old and new patterns meet between reliance and rejection, fear and fascination and create unexpected sequences in a captivating universe full of crossovers and contradictions.
Choreography: Gerda König
Choreographic Assistance: Gitta Roser
Cultural Coach & Assistance: Frank Sam (Kobi)
Dancers: Ellen Afriyie Anim, Eric Lartey, Mark Nii Lomo Lomotey, Alfred Quarshie, Frank Sam (Kobi)
Music: Willie Anku
Costumes: Dreams by Nanna Nilson
Stage: Johnson Edu
Light: Edi Blaboe
Production direction: Gustavo Fijalkow
Trisolistice - Croatia
10 June, 20:30
Duration: 32 min.
Croatia presents the Cie Marmot company in Trisolistice choreographed by Irma Omerzo. Three female characters. Three solo dance performances.
Marmot is an artistic organization founded in Zagreb in 2001. Under the artistic direction of Irma Omerzo, it covers a wide range of activities, including dance pieces, films, actions, performances, dance experiments and educational programs in Croatia and abroad.
Author and choreographer: Irma Omerzo
Scene and film dancers: Silvia Marchig, Roberta Milevoj and Zrinka Simicic
Music: Stanko Kovacic
Film directing, editing and postproduction: Goran Rukavina
Photography: Jasenko Rasol
Production: MARMOT
And the Line Begins to Blur - Finland
13 June, 20:30
Duration: 30 min.
Finland presents Susanna's Leinonen company in the work And the Line Begins to Blur choreographed by Susanna Leinonen.
Choreography: Susanna Leinonen
Music: Kasperi Laine
Light Design: Matti Jykylä
Costumes: Erika Turunen, Liisa Mäenpää, Tipi Taskinen
Dancers: Patrick Bragdell, Elina Häyrynen, Kaisu Hölttä, Liisa Mäenpää, Maija Kiviluoto, Natasha Lommi, Jouka Valkama
Black Swan - Switzerland
16 June, 20:30
Duration: 55 min.
Switzerland presents the Cie Gilles Jobin company in Black Swan choreographed by Gilles Jobin.
"Avoid what is predictable in dance vocabulary as well as in compositional structures": this aesthetic postulate by Gilles Jobin is confirmed by each of his creations by distinguishing itself from the previous one and by encouraging the audience "to break their habits". One could say that this in itself is the subject of Black Swan. Taken from Karl Popper, the title of his newest creation evokes the improbable; in the sense that it takes the emergence of only one black swan (or the "impossible") in the course of a series to modify our definition of a swan and, as a result, our rational approach to reality. It is enough to introduce a bit of "disturbing strangeness" or simply a discrepancy within a habit in order for our perception to change. This is what happens to a child who is discovering the world: everything surprises him, disorients him, increases or modifies his experience. In Black Swan, Gilles Jobin's rallying cry will be just that, "to risk childhood": its surprises, its games, something that the adult will rediscover later on beyond innocence.
Choreography: Gilles Jobin assisted by Isabelle Rigat
Dancers: Gilles Jobin, Isabelle Rigat, Gabor Varga, Susana Panadès Diaz
Music: Cristian Vogel
Light Design: Daniel Demont
Technical Director: Quentin Simon
Production: Mélanie Rouquier
Administration: Grégory Ysewyn
Tort / The Chaos Quartet - Spain
19 June, 20:30
Duration: 60 min.
Spain presents Thomas Noone Dance Company in the works Tort and Chaos Quartet choreographed by Thomas Noone, Roni Haver, Guy Weizman. An evening formed by two choreographies. A presentation by two choreographers with distinct, contrasted styles, but unified by the dancers and a use of strong, visual, physical dance.
Tort
Beginning, progressing, twisting, breaking, failing. Skew. Beginning again.... Tort is pure abstract dance; an investigation of the use of stage space and the time line and the organization of both the group and the individual within them. Tort is a search for the symbolism and power of suggestion of the body formed and deformed before the spectator.
Dancers: Alba Barral, Jvier G Arozena, Horne Horneman and Paloma Muñoz
Choreography: Thomas Noone
Music: Diego Dall'Osto
Choreography assistant: Nuria Martinez
Light Design: Jaume Ortiz
The Chaos Quartet
Ιnspired by the theory of chaos The Chaos Quartet plays with destruction and creation of forms, ideas and matter. Passing through the different scenes, it deals with emotions such as compassion and indifference, holding on or letting go.
Dancers: Alba Barral, Horne Horneman, Nuria Martinez and Thomas Noone
Concept and Choreography: Roni Haver and Guy Weizman
Music: Heiner Goebbels (Suite for Sampler and Orchestra)
Light and costumes: Guy Weizman
Choreography assistant: Nuria Martinez
Special Collaboration: Centre Civic de la Barcelonetta
Thanks to Yvonne Weschke and Eva Puschendorf
Secret sight: dossier – Austria
21 June, 20:30
Duration: 50 min.
Austria presents the company Dans.Kias in Secret sight: dossier choreographed by Saskia Hölbling.
Concept and choreography: Saskia Hölbling
Dance and choreography: Saskia Hölbling
Music: Heinz Ditsch
Lighting and technical direction: Reto Schubiger
Artistic advice: Gilles Amalvi
Instrument 1 scorpine - l' invisibile - Italy
23 June, 20:30
Italy presents the Zappala Danza Company in Instrument 1 scorpine - l' invisibile choreographed by Roberto Zappala.
Choreography and direction: Roberto Zappalà
Original music (performed live): I Lautari
Dancers: Adriano Coletta, Alain El Sakhawi, Fernando Roldan Ferrer, Salvatore Romania, Antoine Roux-Briffaud, Alessandro Vacca
Musician: Puccio Castrogiovanni
Text: Nello Calabrò
Lights and costumes: Roberto Zappalà
Technical Manager: Sammy Torrisi
Artistic coordination: Maria Inguscio
Duar – France
28 June, 20:30
Duration: 60 min.
France presents Centre Choreographique National de Rochelle in the play Duar, choreographed by Kader Attou.
Dancers: Kader Attou, Mabrouk Gouicem, Rachid Hamchaoui, Salem Mouhajir, Amine Aliouat, Fouaz Bounechada, Amine Boussa, Abdallah Hireche, Chaouki Said
Lights: Denis Chapellon
Stage: Romaric Bourgeois
Manager: Elise Chatillon
Artistic direction and choreography: Kader Attou
Scenography: Gilles Rondot
Lights designer: Fabrice Crouzet
Music: Manuel Wandji
Costumes designer: Nadia Genez
Stage designer: Romaric Bourgeois
When
On specific days
From: Wednesday, June 2nd, 2010
Until: Monday, June 28th, 2010
Time: Starts at 20:30
Where
Andrea Drousioti 19
Platia Iroon
Limassol
,
Limassol
3603
,
Cyprus
Email:
Phone: 77777745
Cost
€5 / (€20 for all the performances)
Event Tools
Share this Event

Email to a Friend
Save to Your Calendar

Google Calendar

Yahoo! Calendar

iCal (download) (subscribe)
Related Events

When: June 17th to June 24th*
Time: 20:30
Where: Pallas, Nicosia
Categories: Dance | Festivals
Note: While every care has been taken to ensure the information provided is accurate, we advise you to check with the event organisers before travelling to confirm the details are correct.