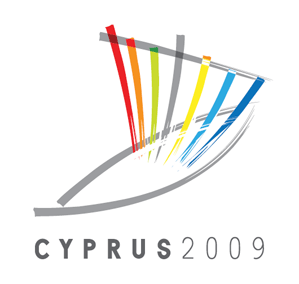 Multi-sport competition amongst the small states of Europe. The GSSE are held every two years and include up to 11 sports. A full round of all the eight states as organisers was completed from 1985 to 1999. San Marino, Malta, Andorra and Monaco have already staged the Games for a second time and 2009 marks the second time for Cyprus.
The Small States of Europe are: Andorra, Cyprus, Iceland, Liechtenstein, Luxembourg, Monaco, Malta, San Marino.
Marios Frangoulis, the world-renowned Greek tenor, will be the highlight of the Opening Ceremony, scheduled to start at the GSP Sports Complex at 20:30 on Monday 1 June 2009. Amongst others, Frangoulis will perform a world premiere of a composition by Canada's David Foster which still remains a secret. Frangoulis will also perform the official song of the Games, titled "Voyage to the Horizon", composed by Vassos Argyridis on lyrics by Babis Anagiotos.
The Opening Ceremony will feature 1300 children, 300 folk dancers, a 100-member dance group and a 300-member choir, backed by the percussion performers of the 2004 Athens Olympic Games.
Other aspects of the Opening Ceremony include the lighting of the altar with a flame that will burn throughout the Games, the entrance of the flag of the Games, the oath of athletes and judges and the official opening of the Games by the President of the Republic, Dimitris Christofias.
The Closing Ceremony on June 6th, scheduled to start at 20:00 at the GSP Sports Complex, will feature Greek singer Glykeria, who will perform popular Greek songs.
Venues:
Opening Ceremony: GSP Sports Complex, Nicosia
Athletics: GSP Sports Complex, Nicosia
Basketball: "Eleftheria" Indoor Hall, Nicosia
Beach Volleyball: Limassol Sailing Centre, Limassol
Gymnastics: "Spyros Kyprianou" Sports Centre,Limassol
Judo: "Lefkotheon" Indoor Hall, Nicosia
Mountain Bike: Machairas
Sailing: Limassol Sailing Centre, Limassol
Shooting: Olympic Shooting Range, Nicosia
Swimming: Olympic Swimming Pool, Limassol
Table Tennis: "Evangelos Florakis" Multipurpose Hall, Nicosia
Tennis: National Tennis Centre, Nicosia
Volleyball: University of Cyprus, Nicosia
Closing Ceremony: GSP Sports Complex, Nicosia
For more information and the schedule of the games please visit the official website at www.cyprus2009.org.cy