Paphos Ancient Odeon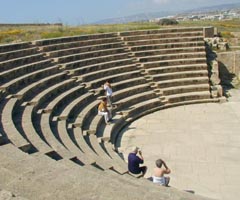 The Theatre is located in the northeastern part of the ancient city, on the slopes of the so-called "Fabrica" hill. The construction of the theatre dates to the founding of the city but it went through alterations and its original plan changed during the Roman period. It seems that the theatre continued to be in use until the 5th century A.D.
Upcoming events for this venue
There are currently no upcoming events for this venue.
Past events for this venue