Ancient Amathus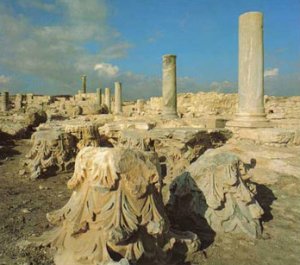 Amathus was a rich and densely populated kingdom with a flourishing agriculture and mines situated very close northeast Kalavasos. In the Roman Era it became the capital of one out of the four (4) administrative regions. Later, in the 4th century A.D. it became the Episcopal See and continued to flourish until the Byzantine Period. At approximately the Late 6th century A.D., Ayios Ioannis Eleimonas (Saint John Charitable), protector of the knights was born in Amathus.
Until 1191 when Richard the Lionheart arrived in Cyprus, Amathus had declined. The tombs were plundered and the stones from the beautiful edifices were brought to Limassol to be used for new constructions. Much later, in 1869, a great number of blocks of stone from Amathus were used for the construction of the Suez Canal.
Address
Ancient Amathus
Amathus Avenue

Ayios Tychonas
,
Limassol
Cyprus
Upcoming events for this venue
There are currently no upcoming events for this venue.
Past events for this venue