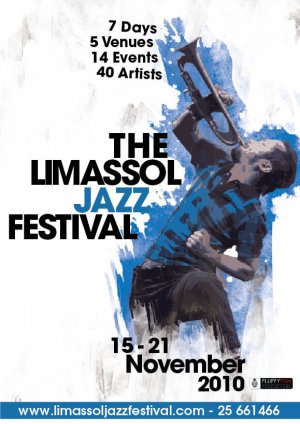 15 – 21 November
7 days, 5 Venues, 13 events, 40 artists
Music, Film, Master class
The first Limassol Jazz Festival 2010 is set to be a landmark in Cyprus' cultural landscape and the leading winter Jazz Festival in the Mediterranean region, launching a creative platform for international and local artists to entertain, educate, collaborate and communicate an inspirational message of intercultural musical exchange.
Held from the 15th – 21st November the Limassol Jazz Festival 2010 contains three main activities, Music, Short Film and a Master class.
A collaborative brainchild between FluffyFish Productions, the Rialto Theatre, the Limassol Municipality, jazzyB club, and the Londa Hotel, the Limassol Jazz Festival will surely entice music aficionados from the island and all over Europe, with the sheer quality and standard of the participating musicians & artists. Extremely impressive is the fact that the festival has secured among others: Argentinian-born, legendary guitarist Hernan Romero, Israeli bassist Avishai Cohen famed to be the leading living bassist and one of the top 10 bassists of all time, the Charis Ioannou Group led by local saxophone virtuoso Charis Ioannou himself and featuring piano great Vahagn Hayrapetyan, The Reunion Band featuring multi award winning pianist Thierry Castel, local jazz sensation vocalist Sarah Fenwick and many, many more.
Being staged at various venues around the city centre, the Limassol Jazz Festival 2010 program consists of 2 concerts at the Rialto Theatre, starring celebrated international artists, Argentinean-born Spanish guitarist Hernan Romero, and outstanding Israeli bassist Avishai Cohen on the 19th & 20th November.
The JazzyB club, established in 2002 to promote Jazz on the island will play host to 2 gigs. On Monday the 15th November JazzyB will open the festival with a press presentation. The Press and audience will get a glimpse of the Festival's star guest, Hernan Romero showcasing some of his latest work. As the Festival's special guest performer, Romero will be on the island for the full duration of the week's events. The opening evening will kick off with the Bi-communal project featuring The Jazz Futures Quintet followed by a jamming session. JazzyB's will also close the Festival gigs with the JazzyB House Band jamming session on Saturday 20th November.
The alternative theatrical venue, Theatro Ena is showcasing 2 evenings of Jazz standards with local artists 'The Charis Ioannou Trio' featuring virtuoso pianist Vahagn Hayrapetyan, 'The Reunion Band' featuring Dutch pianist and composer Thiery Castel; a short film titled the 'Fiddler' by local writer/director Stelana Kliris will be screened on Wednesday 17th and Thursday 18th November.
The JazzHouse is a traditional old Cypriot house situated within a few minutes walking distance from the Rialto Theatre, JazzyB & Theatro Ena and will accommodate artists on a rotational basis; it will act as a rehearsal stage and meeting point for the artists, audience and organisers alike. It will also host a guitar Master Class with Hernan Romero on Tuesday 16th November followed by the Festival's 'Get to Know Each Other Party' later on that same evening!!
'Jazz at the Londa'. Cyprus' uniquely innovative boutique hotel, the Londa, with its modern Italian contemporary design interiors and sophisticated urbane style is poised to deliver the perfect ambience for jazz aficionados during the Festival.  Two special jazz events have been planned at the Londa; both will blend the exquisite flavours of the hotel's award-winning Caprice bar with the irresistible classy atmosphere that only a live jazz performance can create.
On Saturday 20th November, enjoy 'Afternoon Jazz' in the Caprice bar with local vocal sensation Sarah Fenwick and a special guest star pianist, who will thrill the audience with a delicious selection of mellow jazz standards. Whilst on Sunday 21st November, the Londa will close the Festival's daytime events with what is sure to be a show-stopping goodbye as 'JazzyBrunch Tunes' goes wild with Limassol's 'Jazz Festival All Star Band'. With the Londa's Caprice bar framed against the shimmering blue backdrop of the tranquil Mediterranean Sea, audiences will be swept away by the music, mood and magical setting, and with a mouth-watering Caprice lunch buffet to complement the afternoon, this is the perfect finale to the Festival. 
Without doubt the most impressive collaboration of artists ever to take place on the island. Don't miss this opportunity to enjoy some of todays greatest ever musicians performing live in Limassol!!
Impromptu jamming sessions and additional events are expected so please check our website regularly for updates and news – www.limassoljazzfestival.com
The Limassol Jazz Festival 2010 Program
Monday 15th November
Limassol Jazz Festival Press Presentation & Inauguration
jazzyB 20:00 – 21:00
Press & Invitations only
HERNAN ROMERO presentation
jazzyB, 21:00 – 21:30
Free Entrance
THE JAZZ FUTURES QUINTET
jazzyB, 22:00 – 12:00
Free Entrance
Tuesday 16th November
Master Class with guitar virtuoso Hernan Romero
The JazzHouse, 18:00 – 19:00
For booking and prices please call: + 357 25 661466 or contact [email protected]
Jazz Mingle Party!
The JazzHouse, 20:30 – Till Late
By Invitation Only
Wednesday 17th November
THE FIDDLER – Short Film by Stelana Kliris
Theatro Ena, 21:00 – 21:30
The CHARIS IOANNOU TRIO featuring Vahagn Hayrapetyan
Theatro Ena, 22:00 – 23:30
Entrance Fee: €15, €12, €10
Thursday 18th November
THE FIDDLER – Short Film by Stelana Kliris
Theatro Ena, 21:00 – 21:30
REUNION BAND featuring Thierry Castel
Theatro Ena, 22:00 – 23:30
Entrance Fee: €15, €12, €10
Friday 19th November
HERNAN ROMERO Band
Rialto Theatre, 20:30
Entrance Fee: €25 & €20
Saturday 20th November
Afternoon Jazz with SARAH FENWICK
Londa Hotel, 16:00 – 18:00
Free Entrance
AVISHAI COHEN – Aurora
Rialto Theatre, 20:30
Entrance Fee: €25 & €20
The jazzyB House Band Jamming Session
jazzyB, 22:00 – 12:00
Entrance Fee: €15, €12, €10
Sunday 21st November
'JAZZYBRUNCH TUNES' with THE LIMASSOL JAZZ FESTIVAL ALL STAR BAND
Londa, 13:00 – 16:00
Brunch: €35
For reservations please call: + 357 25 865540
Buy your Tickets Now!
Rialto Theatre Ticket Prices: €25 (Normal)
Discounts: €20 (Eligible are Rialto Supporter Card holders, all three concert ticket buyers, Children below the age of 12) 
Online Tickets: www.rialto.com.cy
Rialto Theatre Box Office: 77777745
JazzyB & Theatro Ena Ticket Prices: €15 (Normal)
Discounted packages: €12 per ticket (by purchasing 2 concerts), €10 per ticket (by purchasing all 3 concerts)
Online Tickets: www.limassoljazzfestival.com
Hotline: 25661466
Londa Reservations: Please call: +357 25 865540
For more information and Festival updates please call: +357 25 661466
Official Festival Ticket Outlets!
Nicosia
Musical Paradise: +357 22 750505
Lemesos
Rialto Theatre: 7777 7745
Musical Paradise Makariou: +357 25 822380
Musical Paradise Kolonakiou: +357 25 324025
Pafos
Kalypso Music Store: + 357 26 949296
Online Tickets
www.limassoljazzfestival.com
www.rialto.com.cy
Please note that online tickets carry a 5% Handling Fee
For more information please contact [email protected] or call: +357-25661466