Jupiter Ascending 3D/2D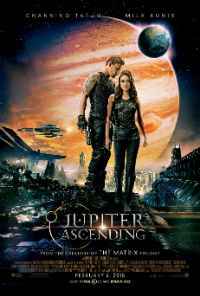 Jupiter Jones was born under a night sky, with signs predicting that she was destined for great things. Now grown, Jupiter dreams of the stars but wakes up to the cold reality of a job cleaning toilets and an endless run of bad breaks. Only when Caine, a genetically engineered ex-military hunter, arrives on Earth to track her down does Jupiter begin to glimpse the fate that has been waiting for her all along – her genetic signature marks her as next in line for an extraordinary inheritance that could alter the balance of the cosmos.
Cast:
Mila Kunis
Channing Tatum
Sean Bean
Eddie Redmayne
Director: Andy Wachowski, Lana Wachowski
Writer: Andy Wachowski, Lana Wachowski
Runtime: 127 min
Genre: Action, Adventure, Fantasy
Rating: 12
Language: English
Production Year: 2015
Jupiter Ascending Trailer
The Theory of Everything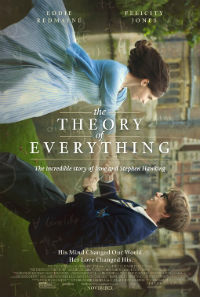 The Theory of Everything is the story of the most brilliant and celebrated physicist of our time, Stephen Hawking, and Jane Wilde, the arts student, he fell in love with whilst studying at Cambridge in the 1960s. Little was expected from Stephen Hawking, a bright but shiftless student of cosmology, given just two years to live following the diagnosis of a fatal illness at 21 years of age. He became galvanized, however, by the love of fellow Cambridge student, Jane Wilde, and he went on to be called the successor to Einstein, as well as a husband and father to their three children. Over the course of their marriage as Stephen's body collapsed and his academic renown soared, fault lines were exposed that tested the lineaments of their relationship and dramatically altered the course of both of their lives.
Cast:
Eddie Redmayne
Felicity Jones
Charlie Cox
Emily Watson
Director: James Marsh
Writer: Anthony McCarten, Jane Hawking
Runtime: 123 min
Genre: Biography, Drama, Romance
Rating: 12
Language: English
Production Year: 2014
The Theory of Everything Trailer
Selma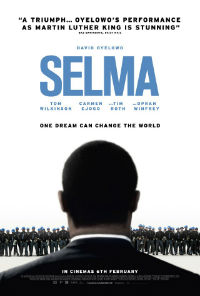 The unforgettable true story chronicles the tumultuous three-month period in 1965, when Dr. Martin Luther King, Jr. led a dangerous campaign to secure equal voting rights in the face of violent opposition. The epic march from Selma to Montgomery culminated in President Johnson signing the Voting Rights Act of 1965, one of the most significant victories for the civil rights movement.
Cast:
David Oyelowo
Tom Wilkinson
Carmen Ejogo
Tim Roth
Director: Ava DuVernay
Writer: Paul Webb
Runtime: 128 min
Genre: Biography, Drama
Rating: 12
Language: English
Production Year: 2014