Valerian and the City of a Thousand Planets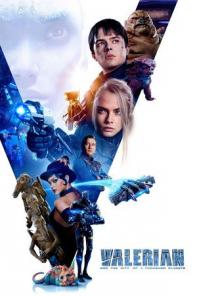 In the 28th century, Valerian and Laureline are special operatives charged with keeping order throughout the human territories. On assignment from the Minister of Defense, the two undertake a mission to Alpha, an ever-expanding metropolis where species from across the universe have converged over centuries to share knowledge, intelligence, and cultures. At the center of Alpha is a mysterious dark force which threatens the peaceful existence of the City of a Thousand Planets, and Valerian and Laureline must race to identify the menace and safeguard not just Alpha, but the future of the universe.
Cast:
Dane DeHaan (Valerian)
Cara Delevingne (Laureline)
Clive Owen (Commander Arün Filitt)
Rihanna (Bubble)
Director: Luc Besson
Runtime: 137 min
Genre: Adventure, Science Fiction, Action
Rating: 12
Language: English
Production Year: 2017
Valerian and the City of a Thousand Planets Trailer
American Made
The true story of pilot Barry Seal, who transported contraband for the CIA and the Medellin cartel in the 1980s.
Cast:
Tom Cruise (Barry Seal)
Domhnall Gleeson (Monty Schafer)
Sarah Wright (Lucy Seal)
Jayma Mays (Dana Sibota)
Director: Doug Liman
Runtime: 115 min
Genre: Crime, Thriller
Rating: 15
Language: English
Production Year: 2017