Vacation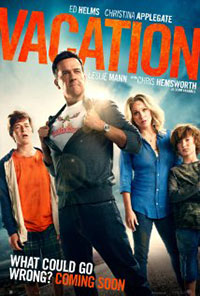 Hoping to bring his family closer together and to recreate his childhood vacation for his own kids, a grown up Rusty Griswold takes his wife and their two sons on a cross-country road trip to the coolest theme park in America, Walley World. Needless to say, things don't go quite as planned.
Cast:
Christina Applegate
Ed Helms
Skyler Gisondo
Director: John Francis Daley, Jonathan M. Goldstein
Writer: Jonathan M. Goldstein, John Francis Daley
Runtime: 99 min
Genre: Adventure, Comedy
Rating: 15
Language: English
Production Year: 2015
Absolutely Anything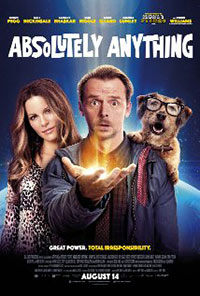 A group of eccentric aliens confer a human being with the power to do absolutely anything, as an experiment.
Cast:
Kate Beckinsale
Robin Williams
Simon Pegg
Director: Terry Jones
Writer: Gavin Scott
Runtime: 85 min
Genre: Comedy, Sci-Fi
Rating: 12
Language: English
Production Year: 2015
Absolutely Anything Trailer