Paper Towns
Adapted from the bestselling novel by author John Green, PAPER TOWNS is a coming-of-age story centering on Quentin and his enigmatic neighbor Margo, who loved mysteries so much she became one. After taking him on an all-night adventure through their hometown, Margo suddenly disappears – leaving behind cryptic clues for Quentin to decipher. The search leads Quentin and his quick-witted friends on an exhilarating adventure that is equal parts hilarious and moving. Ultimately, to track down Margo, Quentin must find a deeper understanding of true friendship – and true love.
Cast:
Nat Wolff
Cara Delevingne
Austin Abrams
Justice Smith
Director: Jake Schreier
Writer: John Green, Scott Neustadter
Runtime: 109 min
Genre: Drama, Mystery, Romance
Rating: 12
Language: English
Production Year: 2015
Southpaw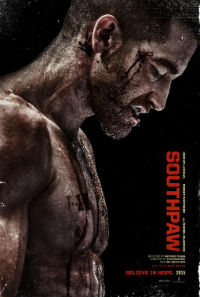 SOUTHPAW tells the riveting story of Billy "The Great" Hope, reigning Junior Middleweight Boxing Champion of the World. Billy Hope seemingly has it all with an impressive career, a beautiful and loving wife, an adorable daughter and a lavish lifestyle. When tragedy strikes and his lifelong manager and friend leaves him behind, Hope hits rock bottom and turns to an unlikely savior at a run-down local gym: Tick Willis, a retired fighter and trainer to the city's toughest amateur boxers. With his future riding on Tick's guidance and tenacity, Billy enters the hardest battle of his life as he struggles with redemption and to win back the trust of those he loves.
Cast:
Jake Gyllenhaal
Rachel McAdams
Forest Whitaker
Oona Laurence
Director: Antoine Fuqua
Writer: Kurt Sutter
Runtime: 123 min
Genre: Action, Drama, Sport
Rating: 15
Language: English
Production Year: 2015