Escobar: Paradise Lost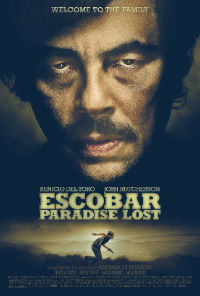 Arriving on the Colombian coast to run a surf camp with his eager brother, Nick meets the smarmy Maria and quickly falls for her. And then he meets her uncle, Pablo Escobar, finding his life on the line when he's pulled into the dangerous world of the family business.
Cast:
Benicio Del Toro
Josh Hutcherson
Brady Corbet
Claudia Traisac
Director: Andrea Di Stefano
Writer: Andrea Di Stefano, Francesca Marciano
Runtime: 120 min
Genre: Romance, Thriller
Rating: 15
Language: English
Production Year: 2014
Escobar: Paradise Lost Trailer
Kidnapping Mr. Heineken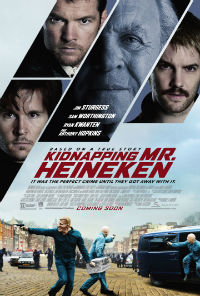 In 1983, a group of childhood friends pulled off the crime of the century: kidnapping one of the richest men in the world, the heir of the Heineken beer empire. The shocking capture – by gunpoint in broad daylight on the streets of Amsterdam – resulted in the largest ransom ever paid for a kidnapped individual. It was truly the perfect crime… until they got away with it.
Cast:
Jim Sturgess
Sam Worthington
Ryan Kwanten
Anthony Hopkins
Director: Daniel Alfredson
Writer: William Brookfield, Peter R. de Vries
Runtime: 95 min
Genre: Action, Crime, Drama
Rating: 15
Language: English
Production Year: 2015
Kidnapping Mr. Heineken Trailer
Ice Age: Continental Drift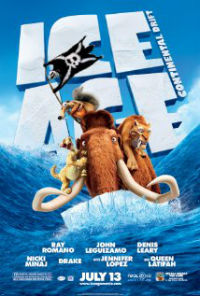 Scrat's nutty pursuit of the cursed acorn, which he's been after since the dawn of time, has world-changing consequences – a continental cataclysm that triggers the greatest adventure of all for Manny, Diego and Sid. In the wake of these upheavals, Sid reunites with his cantankerous Granny, and the herd encounters a ragtag menagerie of seafaring pirates determined to stop them from returning home.
Voices:
John Leguizamo/Petros Philippides (Sid)
Jennifer Lopez/Marina Tsigonaki (Shira)
Denis Leary/Leonidas Kakouris (Diego)
Ray Romano/Giannis Bezos (Manny)
Director: Steve Martino, Mike Thurmeier
Writer: Michael Berg, Jason Fuchs
Runtime: 94 min
Genre: Animation, Adventure, Comedy
Rating: K
Language: English/Greek
Production Year: 2012
Ice Age: Continental Drift Trailer
Mr. Peabody & Sherman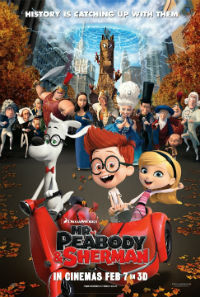 Mr. Peabody is a business titan, inventor, scientist, gourmand, two-time Olympic medalist and genius… who also happens to be a dog. Using his most ingenious invention, the WABAC machine, Mr. Peabody and his adopted boy Sherman hurtle back in time to experience world-changing events first-hand and interact with some of the greatest characters of all time. But when Sherman breaks the rules of time travel, our two heroes find themselves in a race to repair history and save the future, while Mr. Peabody may face his biggest challenge yet – being a parent.
Cast:
Ty Burrell/Christodoulos Stylianou (Mr. Peabody)
Max Charles/Arsenios Chalkiopoulos (Sherman)
Stephen Colbert/Thanassis Kourlambas (Paul Peterson)
Leslie Mann/Maria Zervou (Patty Peterson)
Director: Rob Minkoff
Writer: Jay Ward, Craig Wright
Runtime: 92 min
Genre: Animation
Rating: K
Language: English/Greek
Production Year: 2014
Mr. Peabody & Sherman Trailer