The Revenant
In the 1820s, a frontiersman, Hugh Glass, sets out on a path of vengeance against those who left him for dead after a bear mauling.
Cast:
Leonardo DiCaprio (Hugh Glass)
Tom Hardy (John Fitzgerald)
Will Poulter (Jim Bridger)
Domhnall Gleeson (Captain Andrew Henry)
Director: Alejandro González Iñárritu
Writer: Mark L. Smith
Runtime: 151 min
Genre: Western, Drama, Adventure, Thriller
Rating: 18
Language: English, French
Production Year: 2015
Barbie: Spy Squad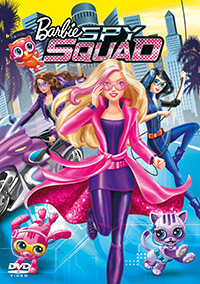 In this exciting, action packed adventure, Barbie™ stars as herself and is joined by Teresa and new friends. When the girls combine gymnastic and parkour skills, they catch the attention of the head of a secret spy agency. A wily cat burglar has eluded her agents, and she's convinced the girls have just the right skills to get the job done! From tech gadgets to martial-arts-like moves, each of the four girls has a specialty that complements one another. Together they prove that smarts and teamwork can get the job done!
Cast:
Rebecca Husain
Britt Irvin
Rachel Staman
Nicole Oliver
Director: Andrew Tan
Writer: Andrew Tan
Runtime: 75 min
Genre: Animation, Family
Rating: K
Language: Greek
Production Year: 2016
Barbie: Spy Squad Trailer