Crimson Peak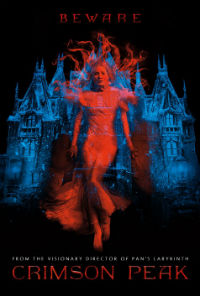 In the aftermath of a family tragedy, an aspiring author is torn between love for her childhood friend and the temptation of a mysterious outsider. Trying to escape the ghosts of her past, she is swept away to a house that breathes, bleeds… and remembers.
Cast:
Mia Wasikowska
Jessica Chastain
Tom Hiddleston
Charlie Hunnam
Director: Guillermo del Toro
Writer: Guillermo del Toro, Matthew Robbins
Runtime: 119 min
Genre: Drama, Fantasy, Horror
Rating: 15
Language: English
Production Year: 2015
Sicario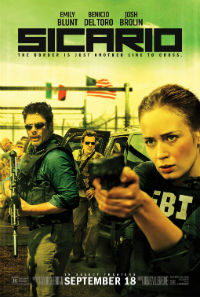 When drug violence worsens on the USA Mexico border, the FBI sends an idealistic agent, Kate Macer on a mission to eradicate a drug cartel responsible for a bomb that had killed members of her team. She enters into an uneasy alliance with a shady character called Alejandro, described as a "sicario", which is Spanish for "hitman".
Cast:
Emily Blunt
Benicio Del Toro
Josh Brolin
Jon Bernthal
Director: Denis Villeneuve
Writer: Taylor Sheridan
Runtime: 121 min
Genre: Action, Crime, Drama
Rating: 15
Language: English
Production Year: 2015