Goosebumps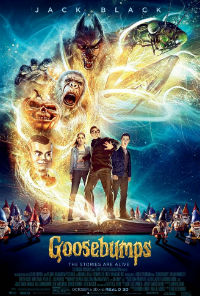 Upset about moving from a big city to a small town, teenager Zach Cooper finds a silver lining when he meets the beautiful girl, Hannah, living right next door. But every silver lining has a cloud, and Zach's comes when he learns that Hannah has a mysterious dad who is revealed to be R. L. Stine, the author of the bestselling Goosebumps series. It turns out that there is a reason why Stine is so strange… he is a prisoner of his own imagination – the monsters that his books made famous are real, and Stine protects his readers by keeping them locked up in their books. When Zach unintentionally unleashes the monsters from their manuscripts and they begin to terrorize the town, it's suddenly up to Stine, Zach, Hannah, and Zach's friend Champ to get all of them back in the books where they belong.
Cast:
Jack Black
Dylan Minnette
Odeya Rush
Ryan Lee
Director: Rob Letterman
Writer: Darren Lemke, Scott Alexander
Runtime: 103 min
Genre: Adventure, Comedy, Fantasy
Rating: K
Language: English
Production Year: 2015
In the Heart of the Sea 3D/2D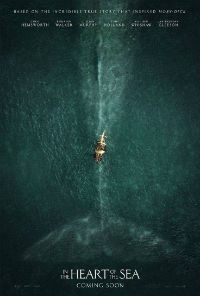 In the winter of 1820, the New England whaling ship Essex was assaulted by something no one could believe: a whale of mammoth size and will, and an almost human sense of vengeance. The real-life maritime disaster would inspire Herman Melville's Moby-Dick. But that told only half the story. "In the Heart of the Sea" reveals the encounter's harrowing aftermath, as the ship's surviving crew is pushed to their limits and forced to do the unthinkable to stay alive. Braving storms, starvation, panic and despair, the men will call into question their deepest beliefs, from the value of their lives to the morality of their trade, as their captain searches for direction on the open sea and his first mate still seeks to bring the great whale down.
Cast:
Chris Hemsworth
Benjamin Walker
Cillian Murphy
Tom Holland
Director: Ron Howard
Writer: Charles Leavitt
Runtime: 121 min
Genre: Adventure, Comedy, Fantasy
Rating: 12
Language: English
Production Year: 2015
In the Heart of the Sea Trailer
Carol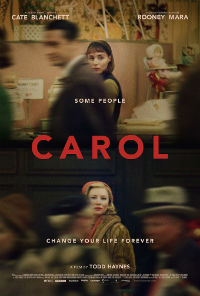 In an adaptation of Patricia Highsmith's seminal novel The Price of Salt, CAROL follows two women from very different backgrounds who find themselves in an unexpected love affair in 1950s New York. As conventional norms of the time challenge their undeniable attraction, an honest story emerges to reveal the resilience of the heart in the face of change. A young woman in her 20s, Therese Belivet, is a clerk working in a Manhattan department store and dreaming of a more fulfilling life when she meets Carol, an alluring woman trapped in a loveless, convenient marriage. As an immediate connection sparks between them, the innocence of their first encounter dims and their connection deepens. While Carol breaks free from the confines of marriage, her husband begins to question her competence as a mother as her involvement with Therese and close relationship with her best friend Abby come to light.
Cast:
Cate Blanchett
Rooney Mara
Kyle Chandler
Sarah Paulson
Director: Todd Haynes
Writer: Phyllis Nagy, Patricia Highsmith
Runtime: 118 min
Genre: Drama, Romance
Rating: 15
Language: English
Production Year: 2015