Tea Ceremony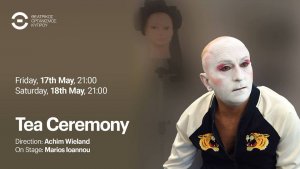 A unique devised performance by the international Ensemble SRSLYyours at Thoc.
Director: Achim Wieland
Performer: Marios Ioannou
Tea Ceremony, a unique devised performance directed by Achim Wieland and performed by the exceptional actor Marios Ioannou, will be performed at Thoc for two appearances, on 17th and 18th of May (21:00). The play is developed around the ancient tradition of the Tea Ceremony, in which a Geisha invites the theatre audience to an evening of comfort and delight, wealth and luxury, appearance and well-being.
During the monologue, the "Tea Host" begins to question her role as "entertainer", operating in a system based on capitalism, consummation and ownership. Well-trained as a performer and "servant", the Geisha challenges not only her own role but the audiences' motivation as well, in which we fulfill our needs at the expense of an increasing exploitation of the world's resources and the suffering of others.
Geisha, as an icon of beauty and well-trained to seduce her customers through movement, song and dance, leads the audience on a journey of modern-day abuse, child labour, human trafficking, torture and slavery …and the high price we pay for our joy and greed.
Through devised script, found text, socio-political and personal material adopted from everydayness and media representations, Tea Ceremony intends to carry the world that is happening outside the "stage" onto the stage and to remake it into that fresh and voluminous space which the performance effectively provides.
The performance premiere took place at Rialto Theatre (Limassol) for two presentations on May 27th, 2018.
Achim Wieland
The work of German Artist and Director-Author, Achim Wieland, shifts between the Visual Arts, Stage Performance and Writing. He is a founding member of the recently established performance collective SRSLYyours. One of their recent performance works (Fear Industry) has been selected in the Category "Best Theater Performances of Berlin Stages" (Zitty Magazine, Berlinale Issue 2016). In 2016-17 he was the Artistic Director for the project "Uniting the Mediterranean Sea", commissioned by the Cultural Capital of Europe/Pafos. He is currently on tour with "Egoland" (2017) and "The Tea Ceremony" (premiere 2018 / Rialto Theatre).
Since 2018, Achim Wieland is the Artistic Director of the Buffer-Fringe Festival of Performing Arts Cyprus.
Born and raised in Germany, Achim Wieland moved to the USA on a Fellowship Grant to complete his Masters of Fine Arts (MFA) at the Rhode Island School of Design (RISD). He has worked, taught and lectured throughout Europe, North America, and the Middle East. Clients and Collaborators include the Guggenheim Museum New York, The J. Paul Getty Museum/Los Angeles, The Bronx Museum, Deutsche Guggenheim Berlin, New York University among others. He held teaching positions in the Design Department and Graduate Program of the Rhode Island School of Design/USA, HWZ (Switzerland), VCU/Q (Virginia Commonwealth University/Qatar), F+F School for Media and Design Zurich and is a member of the part-time faculty at the University of Nicosia (Cyprus). He conducts workshops and gives lectures internationally, exhibits independent art projects, and directs performance and theatre work staged throughout Europe.
His work has been exhibited and awarded internationally: American Center for Design (ACD) Chicago, Jan van Eyck Akademie/Netherlands, Fringe Festival, Artos Foundation/Madrid, Cultural Capital of Europe/Cyprus, Macedonian Museum of Contemporary Arts Thessaloniki, Explosive Festival/Bremen, Dance Platform Cyprus, the Experimental Film/Video Festival Strange Screen, among others.
Marios Ioannou
Marios Ioannou (b.1972) is an actor working on theatre and film. He was born and raised in Cyprus and graduated from the National Theatre, Greece.
Some of the most notable roles that he portrayed in theatre are Büchner's "Woyzeck" (Zurich, Berlin, Stuttgart), Ben in "Dogville" and Casca in "Julius Caesar" (National Theatre of Greece), the Madman in Gogol's "Diary of A Madman" (London and Cyprus), the role of a Geisha in the devised play "Tea Ceremony" (currently on tour) and "Fear Industry" (Athens, Berlin, Gothenburg) both directed by Achim Wieland. Fear Industry was selected "Best Theatre Performance on Berlin Stages 2016" (Zitty Magazin, Berlinale Issue/2016).
He starred in numerous film productions including "The photographers" (Nikos Koundouros), "Cheap Smokes" (Renos Charalambides), "Circo De La Vida" (Maria Lafi), "Greenhouse" (Ioakeim Mylonas), "Conveyor Belt" (Alexia Roider), "Bourek" (Vladan Nikolic), "Rosemarie" (Adonis Florides). In 2002 he won the Best Actor Award at the Thessaloniki Film Festival for his lead in Kalabush (Adonis Florides, Theodoros Nicolaides) and in 2012 received the Honorary Mention for outstanding performance for his lead in Fish 'n Chips (Elias Demetriou), who won third prize at the 2012 Toronto Film festival.
He was appointed by the European Capital of Culture (Pafos 2017) to write and direct the international production "Uniting the Mediterranean Sea" and is the Co-Artistic director of the Theatre Ensemble SRSLYyours.
Ensemble SRSLYyours is a group of international performers, writers, visual artists and dramaturges based in Cyprus, Germany, Sweden, Greece and Switzerland and devoted to an inclusive and non-hierarchical content development process around socio-political themes. Their latest work "Fear Industry" has been selected in the Category "Best Theater Performances of Berlin Stages" (Zitty Magazine, 2016). The large-scale European Performance Project is on Tour since Spring 2016 (Berlin, Montenegro, Madrid, Stuttgart, Zurich, Gothenburg, Athens).
SRSLYyours understands theater as an incentive for social change – perhaps a political one.
CREATIVE TEAM
Director / Dramaturgy: Achim Wieland
Performer: Marios Ioannou
Script: Achim Wieland, Marios Ioannou, the Ensemble
Artistic Advisor: Akiko Hamazaki (Tokyo, Japan)
Choreographer / Movement Coach: Alexis Vassiliou
Costume Design / Set: Ioanna Tsami (Athens, Greece)
Light Design: Vasilis Petinaris
Traditional Japanese Dance Advisor: Hiroko Umetani (Kyoto, Japan)
Project Partners: Rialto Theatre, Dancehouse Limassol
With the support of Tanzfabrik Berlin, Konstkollektivet Sweden, the Goethe-Institut, the German Embassy.
Performance will be in English
When
From: Friday, May 17th, 2019
Until: Saturday, May 18th, 2019
Time: Starts at 21:00
Where
9 Gregori Afxentiou

Nicosia
,
Nicosia
1096
,
Cyprus
Email:
Phone: 77772717
Cost
€15
Contact
Event Tools
Share this Event

Email to a Friend
Save to Your Calendar

Google Calendar

Yahoo! Calendar

iCal (download) (subscribe)
Note: While every care has been taken to ensure the information provided is accurate, we advise you to check with the event organisers before travelling to confirm the details are correct.