Schoenberg's Pierrot Lunaire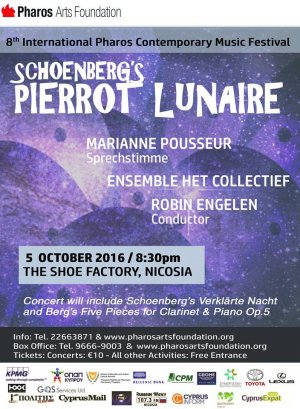 Schoenberg's Pierrot Lunaire with Marianne Pousseur & ensemble Het Collectief under the direction of Robin Engelen
Drawing attention to contemporary masterpieces in which human voice takes the lead, the 8th International Pharos Contemporary Music Festival opens on Wednesday 5 October 2016 with the performance of one of the most emblematic works of the 20th century. Over a decade since the Pharos Arts Foundation presented the Cyprus premiere of Schoenberg's Pierrot Lunaire with the London Sinfonietta, the work which has changed the history of vocal music forever and which has never been performed in Cyprus ever since, will be heard again: This time by the legendary vocalist Marianne Pousseur who will join forces with the exceptional ensemble Het Collectief under the direction of German conductor Robin Engelen. Het Collectief will also perform Schoenberg's post-Romantic masterpiece Verklärte Nacht, as well as Alban Berg's Five Pieces for Clarinet and Piano Op.5.
A FEW WORDS ABOUT THE PROGRAMME:
Pierrot Lunaire is the keystone of contemporary chamber music – the work that fundamentally altered the course of composition. One of the most daringly original and profoundly influential works in music history, Pierrot Lunaire is the work that launched Modernism and pulled music away from the safe harbour of the past forever. While its roots reach back to the heart of Romanticism, its shadow falls beyond the horizon, far into the future. Schoenberg took his title from a volume by the Belgian surrealist / symbolist poet Albert Giraud, selecting 21 poems which he arranged in three groups of seven. The poems are based on the naïve character Pierrot, from the Italian Commedia dell' arte tradition, and they present various perspectives on his main concerns: moonlight, love, religion, and death. Pierrot is a dreamer and a poet, a wistful and human clown, prey to the moods that swing swiftly from ecstasy to hysteria, ever victim of the conflict between the real and the ideal. Schoenberg's evocative and highly original music perfectly complements the changing moods of the poems: at times gentle and atmospheric, intensely anguished, wistfully nostalgic, or with ironic detachment. The expressive range and power of Schoenberg's setting of these remarkable poems is astonishing. Vocally, the work is a fearsome challenge, its text delivered exclusively in Sprechstimme, a technique halfway between speaking and singing. Years after the composer's death, Stravinsky pronounced the work "the solar plexus as well as the mind of early twentieth-century music." It is not surprising that after all these years, Pierrot Lunaire continues to shock audiences with its sheer originality, and like all great masterpieces, it is a work that sounds forever fresh.
And while Schoenberg's fame arose from his escape from tonality and his invention of the serial method, his very first published work, written in a three-week burst of inspiration in 1899, was ardently Romantic, intensely sensitive and seeped in traditional feeling. Verklärte Nacht ("Transfigured Night") was inspired by a mystical poem by Richard Dehmel. In cold, moonlit woods, a woman confesses to her lover that she carries the child of another man she never loved but to whom she yielded for fulfilment. Schoenberg's dual – and seemingly divergent – musical influences at the time, Wagner and Brahms, are present throughout the work, whereas the composer still succeeds in marshalling a highly contrapuntal and chromatic language that is entirely his own for the first time in his career.
MARIANNE POUSSEUR Sprechstimme
One of the most iconic and celebrated performers of contemporary music, Marianne Pousseur appears frequently with ensembles such as the Schoenberg Ensemble (direction Reinbert de Leeuw), Remix Porto, Die Reihe Vienna, and she has appeared numerous times with the Ensemble InterContemporain, particularly under the direction of Pierre Boulez. The stage version of Pierrot Lunaire by Arnold Schoenberg, with Ensemble Musique Oblique conducted by Philippe Herreweghe, has been released on film as well as a CD for the label Harmonia Mundi France. Her immense theatrical experience has allowed Marianne to be the actress reciting in symphonic works such as Psyche by César Franck and Peer Gynt by Grieg, conducted by Kurt Masur with the Orchestra National de France and the London Philharmonic Orchestra, as well as Sciarrino's Lohengrin the recording of which won the 2009 MIDEM Classical Awards in Cannes. For her, in 2004, George Aperghis composed Dark Side for mezzo-soprano and ensemble, created in Athens with the Ensemble InterContemporain. Subsequently, in 2008, they collaborated again on Yannis Ritsos' poem Ismene which was set into an opera for solo voice. The performance won the 2009 Belgian critics Award and it has since been performed in several international festivals. Marianne's artistic research on Yannis Ritsos, led her to compose and perform the music theatre Phedre, based on Ritsos' poem, and the triptych was completed in 2015 with Ajax.
ENSEMBLE HET COLLECTIEF
Wibert Aerts, violin | Julien Hervé, clarinet | Thomas Dieltjens, piano | Toon Fret, flute | Martijn Vink, cello
The chamber music ensemble Het Collectief was founded in 1998 in Brussels. Working consistently from a solid nucleus of five musicians, the ensemble has created an intriguing and idiosyncratic sound, achieved by an unfamiliar mix of strings, wind instruments and piano. In its repertoire, Het Collectief returns to the Second Viennese School, the roots of modernism. Starting from this solid basis, it explores the important repertoire of the 20th century, as well as the very latest experimental trends. The quintet also creates a furore with daring crossovers between the contemporary and the traditional repertoire and with adaptations of ancient music. Next to the many concert venues in Belgium, Het Collectief regularly brings its productions to important concert all over the world, including The Netherlands, Germany, Austria, Switzerland, Spain, Poland, Hong Kong, Peru and Brazil.
ROBIN ENGELEN conductor
Robin Engelen has collaborated and led many fine orchestras around the world, including the Leipzig Gewandhaus, Stuttgart Radio Orchestra and Stuttgart Philharmonic, Berlin Konzerthaus Orchestra, Berlin Radio Symphony (RSB), Dusseldorf Philharmonic, Tokyo Philharmonic, State Orchestra Halle, and Orchestra Sinfonica di San Remo. In addition, he is a notable opera conductor who has appeared in various opera houses in Berlin (Komische Oper), Paris (Garnier), Mannheim, Antwerpen, Leipzig, Kassel, Palermo, Yakutsk and Seoul. His discography includes a recording of Pierrot Lunaire, which won the Diapason d'Or. In 2013, Robin Engelen also won the prestigious ECHO Klassik.
TICKETS:
Box Office: Directly from the Foundation's website www.pharosartsfoundation.org
Tel. 96669003 (Monday-Friday 10:00am-3:00pm)
When
Wednesday, October 5th, 2016
Time: Starts at 20:30
Where
Cost
€10
Contact
Pharos Arts Foundation
Phone: 22663871
Event Tools
Share this Event

Email to a Friend
Save to Your Calendar

Google Calendar

Yahoo! Calendar

iCal (download) (subscribe)
Note: While every care has been taken to ensure the information provided is accurate, we advise you to check with the event organisers before travelling to confirm the details are correct.