Pianosaxpiano: Solo and chamber music for sax and two pianos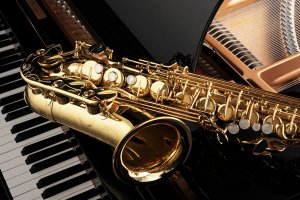 An interesting music evening with solo and chamber music for saxophone and two pianos, entitled 'Pianosaxpiano', will take place at Technopolis 20, on Thursday, 1st of November 2018, at 8pm.
The Associate Professor of Music Education and Saxophone at European University Cyprus, Dr. Yiannis Miralis, the Polish pianist specialised in chamber music repertory, Jakub Tchorzewski and the concert pianist Michael Tsalka, will perform a programme with works for solo piano and four hands by F. Schubert, F. Chopin, Y. Braun, and works for saxophone and piano by W. Benson, N. Rota, G. Karvellos, M. Shrude, J. Naulais, M. Bunce.
Entrance: 10 euro
Reservations are necessary at 70002420 (calls only).
Programme
Fantasy for four hands in F minor, Franz Schubert - Michael Tsalka & Jakub Tchorzewski
Ballade #1 in G minor, Op. 23, Frederick Chopin - Jakub Tchorzewski
Four keyboard pieces: Grave; Allegro; Largo; Allegretto, Yehezkel Braun - Michael Tsalka
Works for piano and saxophone
Aeolian Song, Warren Benson (1924 - 2005)
Allegro Danzante, Nino Rota
Encounter, Giorgos Karvellos (1964)
Kantada, Marilyn Shrude
Petite Suite Latine, Jerome Naulais (1951)
Lent-Paso doble; Valse lente-Cha cha; Tango; Passionne-Bossa Nova
Waterwings, Mark Bunce
A few words about the musicians
Dr. Yiannis Miralis is Associate Professor of Music Education and Saxophone at European University Cyprus. He holds degrees from Michigan State University (PhD), Bowling Green State University (MM) and Lawrence University (BM), where he was a Fulbright scholar.
He was a founding member of the Cyprus Youth Symphony Orchestra. As the first Cypriot classical saxophonist he has performed with the Cyprus Symphony Orchestra and the Ensemble Philharmonia and has given chamber music recitals in Cyprus, Greece, Italy, Spain, Switzerland, Serbia, Germany, Sweden, Netherlands, Lebanon, Canada and the USA. He is founding member of the Transcontinental Saxophone Quartet with which they won various chamber music competitions in the USA. The quartet appeared as soloist with the Royal Belgian Air Force Band, the Fargo-Moorhead Symphony Orchestra and the Jackson Symphony Orchestra, while their CD "Mountain Roads" has received positive reviews. He is also founding member of the Mediterranean Trio with which they performed in Munich, Bonn, Berlin, Amsterdam and Nicosia.
He has taught at the University of Cyprus and the University of Windsor and he served as assistant professor at the Lionel Hampton School of Music at the University of Idaho. He is founding member of the Greek and Cypriots Saxophone Associations, board member of the European Chamber Music Teachers' Association (ECMTA) and chair of the Forum for Instrumental and Vocal Teaching of ISME.
Jakub Tchorzewski is a Polish pianist specialized in chamber music repertory. He has performed across Europe and the United States, as well as in Japan and Brazil, while some of his past appearances have been recorded and broadcasted by Czech, Slovakian, Swiss, Italian and Polish national radios.
Jakub Tchorzewski currently lives in Italy, where he has been invited to play at important music festivals like Biennale Musica in Venice, Serate Musicali in Milan, Bologna Festival and Nuova Consonanza Festival in Rome. Recently he performed in Rome at the Quirinale Palace, in Venice at the Teatro La Fenice, in Milan at the Teatro Filodrammatici, in Padova at the Pollini Auditorium, in Rovigo at the Accademia dei Concordi and in Trento at the Philharmonic Hall. Abroad he played at the Philharmonic Halls of Warsaw, Lviv and Bucarest as well as during Festivals "Warsaw Autumn", "Poznań Musical Spring" and "Musical Autumn of Cluj-Napoca".
He has recorded 9 well received by international music press Compact Discs, released by Acte Préalable, Dux, Musiques Suisses, Tactus, Vermeer and Warner/Polskie Nagrania labels. His interest in forgotten or rarely performed repertory led him to record World Premieres of such composers like Sándor Veress, Gino Gorini, René de Boisdeffre and Roman Palester.
A dedicated chamber musician, Jakub has collaborated, among others, with acclaimed violinists Tomasz Tomaszewski and Dejan Bogdanovich, violists Jodi Levitz and Morgan O'Shaughnessey, cellists Bartosz Koziak and Luca Fiorentini, flutists Ginevra Petrucci and Carlo Tamponi, clarinetists Ludmila Peterkova and Vincenzo Paci, and ensembles like the Duo Viennese (Paweł Zalejski and Monika Hager-Zalejski) and the Guadagnini String Quartet.
Contemporary music is another field of Jakub's interest. He took part in the premiere performances of works written by Giovanni Bietti, Alessandra Ciccaglioni, Federico Gardella, Ardian Halimi, Katarzyna Kwiecień-Długosz, Filippo Perocco, Marcin Stańczyk and Alex Stein. Krzysztof Meyer expressed himself about the performance of his Cello Sonata op. 99 recorded by Izabela Buchowska and Jakub Tchorzewski in the following way: "Your recording is excellence in all respects. It is exactly how I imagined my Sonata while writing it."
Jakub Tchorzewski graduated from the Fryderyk Chopin Academy of Music in Warsaw under guidance of prof. Alicja Paleta-Bugaj (piano) and prof. Krystyna Borucińska (chamber music). He studied also with prof. James Tocco at the Musikhochschule Lübeck, prof. Tomasz Herbut at the Hochschule der Künste Bern as well as prof. Mack McCray at the San Francisco Conservatory of Music.
He worked as a collaborative pianist at Latina, Udine and Venice Conservatories and since 2014 he has been a member of the European Chamber Music Teachers' Association.
http://www.piano.info.pl/curriculum/in-english
Michael Tsalka: Early keyboard performer and concert pianist Michael Tsalka (Israel/Netherlands) has won numerous prizes and awards in Europe, the U.S.A., the Middle East, Asia, and Latin America. A versatile musician, he performs with equal virtuosity a wide span of repertoire from the early Baroque to our days on the harpsichord, fortepiano, clavichord, square piano, chamber organ and modern piano. Dr. Tsalka was born in Tel-Aviv, Israel. After obtaining a bachelor's degree from Tel-Aviv University, he continued his studies in Germany and Italy. In 2001, he received a Piano Solo Diploma from the Scuola Superiore Internazionale del Trio di Trieste, where he studied with Dario di Rosa. From 2002-2008, he studied at Temple University under the guidance of Joyce Lindorff, Harvey Wedeen, and Lambert Orkis. Tsalka holds three degrees from that institution: a Master's degree in Chamber Music/Accompanying, a Master's degree in Harpsichord Performance and a Doctorate in Piano Performance. Other teachers included Sandra Mangsen, Klaus Schilde, Malcolm Bilson, and Charles Rosen.
Dr. Tsalka maintains a busy concert schedule. Recent engagements include performances at the Boston Early Music Festival, the Forbidden City Hall in Beijing, Bellas Artes Theater in Mexico City, the Hermitage Museum in St. Petersburg, the Metropolitan Museum in New York, St. Denis Festival in Paris, Der Gasteig in Munich, Beethoven House in Bonn, Tokyo's City Opera, the National Gallery of Art in Washington, D.C., the Volksbuehne Hall in Berlin, the Jerusalem Music Center, Sydney Conservatorium of Music, the Mozarteum in Salzburg, the Concertgebouw in Amsterdam, the Accademia Bartolomeo Cristofori in Florence, and the Elbphilharmonie in Hamburg, and interviews and live performances for radio and T.V. stations in Hong Kong, Chicago, Buenos Aires, Berlin, Munich, St. Petersburg, Beijing, Stockholm, Helsinki, Auckland, St. Louis, Sydney, Amsterdam, Brussels, Shanghai, Paris, Geneva, London, Mexico City, and Jerusalem.
He has performed as soloist with numerous orchestras, among them The Sydney Consort (Australia), the University of Birmingham Chamber Orchestra (U.K.), Temple University Chamber Orchestra (Philadelphia, U.S.A.), Krasnoyarsk Chamber Orchestra (Russia), Guatemala Symphony Orchestra, Musica Raritana (New Jersey, U.S.A.), Silvestre Revueltas Chamber Orchestra (Guanajuato, Mexico), St. Louis' City Orchestra (U.S.A.), Hermitage Festival Orchestra (St. Petersburg, Russia), Baroque Camerata (Kaohsiung, Taiwan), Filharmonica Orchestra (Manila, Philippines), NCMA (NZ), ThoroughBass (Sydney), the Nelson Symphony Orchestra (NZ), and Collegium Musicum (Auckland, NZ).
Dr. Tsalka has recorded 20 CDs for labels such as Naxos, Grand Piano, Ljud & Bild (Stockholm), Brilliant Classics (Amsterdam) Paladino (Vienna), the Israeli Music Institute (Israel), and Wirripang (Australia). Current and future recording projects include CDs dedicated to keyboard works by Antonio Vivaldi, Johann Sebastian Bach, Daniel Gottlob Türk, Johann Baptist Wanhal, Carl Dittersdorf, Ferdinand Ries, Franz Schubert, F. Chopin, Felix Mendelssohn, Viktor Ullmann, Leonardo Coral, contemporary Australian Keyboard Music, and Yehezkel Braun. Tsalka often perform chamber music: recent ensembles he has formed include Duo Filmharmonia and Duo Musica Curiosa, together with historical keyboards, theremin and glass Armonica virtuoso Dennis James.
Other musicians Michael Tsalka has collaborated with include Peter Sykes, Cynthia Roberts, Alon Sariel, and Lambert Orkis.
Together with Dr. Angelica Minero Escobar, he is preparing a critical edition of Daniel Gottlob Türk's 30 keyboard sonatas for Artaria Editions in New Zealand (artaria.com). Sonatas 1–12 were published in 2014. Sonatas 13-24 will be published in 2018:
Volume 1: ae540-sonaten-fur-das-clavier-collection1
Volume 2: ae541-sonaten-fur-das-clavier-collection2
Additionally, eight of his scholarly articles have been published by music journals, including De Clavicordio (Italy), Piano Bulletin EPTA (Netherlands), Early Keyboard Journal and Early Music America (U.S.A.). Dr. Tsalka often collaborates with composers: In 2016-2018, he will perform sixteen world premieres dedicated to him by composers of fourteen different nationalities.
He has presented more than hundred master classes and lecture-recitals in academic institutions in all continents. During his doctorate years, he taught at the Esther Boyer College of Music. From 2009-2014, he was a professor of harpsichord and chamber music at the Escuela Superior de Música, National Center for the Arts (Mexico City), and a professor of early keyboards at Lilla Akademien (Stockholm). Currently, he is a visiting professor at Celaya Conservatory in Guanajuato, Mexico.
Dr. Tsalka is on the board of directors of ECMTA (European Chamber Music Teachers Association) and the HKSNA (Historical Keyboard Society of North America). In 2011, he was the artistic director of the Bach Festival, at the Forbidden City Concert Hall in Beijing, Qingdao's Grand Theatre and Wuhan's Qintai Concert Hall. From 2012 to 2015, he was the co-artistic director of the Nordic Historical Keyboard Festival in Kuopio, Finland. In December 2014, he was the artist director of a mini-festival, titled "Fanfares and Ornaments" for the Dutch Embassy in Stockholm. From 2014, he became the artistic director of the Geelvinck Fortepiano Festival in the Netherlands (www.geelvinck.nl/geelvinckfestival/muziekagenda-geelvinck-fortepiano-festival-2017/). Currently, he is also the artistic director of the Across Bridges International Piano Summer Academy and Festival (Shanghai, Lanzhou, Chengdu, and Valencia, Spain: https://acrossbridgespiano.com).
In 2018, Dr. Tsalka was the Artist in residence of the NCMA in NZ for two months, in which he directed and took part in multiple concert series and orchestral performances.
http://michaeltsalka.com/
When
Thursday, November 1st, 2018
Time: Starts at 20:00
Where
18 Nikolaou Nikolaidi Avenue

Paphos
,
Paphos
8010
,
Cyprus
Email:
Phone: 70002420
Cost
€10
Event Tools
Share this Event

Email to a Friend
Save to Your Calendar

Google Calendar

Yahoo! Calendar

iCal (download) (subscribe)
Note: While every care has been taken to ensure the information provided is accurate, we advise you to check with the event organisers before travelling to confirm the details are correct.