Lefkosia Loop Festival 2012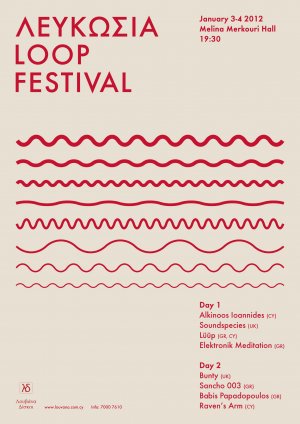 Indie record label Louvana Records is organising the first Lefkosia Loop Festival in Cyprus. The festival will take place at Melina Merkouri Hall on the 3rd and 4th of January 2012. Its main goal is to present a varied range of high-quality musical performances based on the live looping technique. To achieve this, Louvana has invited exceptional musicians from Greece, England and Cyprus, carefully selected for their knowledge and mastery of this technique, both on a technical and aesthetic level.
In particular, the artists and bands performing at the festival come from varying musical backgrounds and have a different approach regarding the use of their instruments, which adds to the diversity demanded in these live performances. Alkinoos Ioannides' performance will be in two parts. The first revolves around the music he has composed based on the last two chapters of "I Fonissa", a novel by Alexandros Papadiamantis (which will also be narrated by actress Stela Fyrogeni), while the second will include renditions from his personal work. Guitarist Babis Papadopoulos, using a loop station, will be presenting instrumental compositions, as well as his own twisted interpretations of known songs. Sancho 003 (Kostas Pantelis - electric guitar, Fotis Siotas - violin/viola/keys/vocals) base their music exclusively on looping and synchronising two loop stations (that are in no way connected to each other) live. They will be performing pieces from their 2009 album "We Buy Gold", as well as unreleased material from their new album which is due out in spring 2012. Lüüp, after releasing two albums, will be performing live for the first time as a trio, with Stelios Romaliades (flute), Sofia Efklidou (cello, vocals) and Lefteris Moumtzis (vocals, guitar). Their music follows an ambient, psych-folk, neo-classical path. Electronic Meditation (Jannis Anastasakis) works with different techniques of reproduction of digital and analogue sounds through a unique collection of mainly homemade effects pedals. Last but not least, Soundspecies and Bunty are two major English acts that masterfully handle a wide range of genres, from afro-rhythms to ambient and all the way through to electronic jazz and more.
Live Looping
The looping technique gives the artist the ability to build, in real time, a complex, multi-layered musical piece. This is achieved by creating melodic and rhythmic phrases (with natural or electronic instruments), that, once structured, can be repeated as recorded samples over which the artist continues to add new lines. More than often, the final result, as well as its parts, can stand as a completed musical piece. The artist can therefore present, through looping to his/her audience, exactly how a song can be build on the spot, and what its major components are, while the listener gets a sense of being a part of the creative process.
Festival program:
January 3rd
7:30 Opening
8:15 Elektronik Meditation
9:15 Lüüp
10:30 Alkinoos Ioannides
11:45 Soundspecies
January 4th
7:30 Opening
8:15 Raven's Arm
9:00 Babis Papadopoulos
10:30 Sancho 003
11:45 Bunty
The artists that are taking part in the festival one by one:
Alkinoos Ioannides (CY)
Various musical instruments scattered on stage: acoustic, electric, electronic, strings, winds, and percussion. Everything connected to a central loop station, on which he records and reproduces the musical phrases he plays on each instrument, adding one after the other, thus creating soundscapes over which the melodies and lyrics move.
The performance is split in two parts: On the first part he will present the music he composed based on the last two chapters of "I Fonissa", a novel by Alexandros Papadiamantis. This project was first presented with Maria Farantouri at the Filippon Ancient Theatre last summer, for the 100th year anniversary of the novelist's death. This time, however, the text will be narrated by singer/actress Stela Fyrogeni. On this part, he will be joined by Pavlos Michaelides and Fotis Siotas playing violin and viola respectively. The second part will be entirely based on live looping, as Alkinoos will be playing and singing songs from his released personal work using a loop station.
Sancho 003 (GR)
Sancho 003 is the duet of Fotis Siotas (violin, viola, synth) and Kostas Pantelis (guitars). They compose and perform music based on two instruments and loops.
Currently, they've just finished their second album "Los Dos Aguas", due for release in the spring of 2012, from Belgian label Conspiracy Records. They will present music, sounds and improvisations, which were "born" mainly from their collaboration with the dance group Sinequanon, over the past two years. They will also perform pieces from their first album "We Buy Gold".
Babis Papadopoulos (GR)
Babis Papadopoulos, guitarist from the band Trypes and a long-time collaborator of Thanasis Papakonstantinou, Socratis Malamas, and Floros Florides amongst others, has already left his mark on the Greek music scene. He began his solo career with 2008's "Scenes from a Journey" and 2010's "From Draco's Cave", which he presented live in many Greek cities and abroad.
In his "Electric Solo" shows, Babis presents a set containing his own instrumental compositions, as well as tweaked famous songs. His main instrument of choice is the guitar, acoustic and electric, which holds the lead role during the live performance, but at times gives way to any other sound that occurs when the instruments co-exists with loop stations and effects.
The sonic result is a blend of musical images colored with rock, ambient, and jazz-electronic elements, as well as improvisation; in other words all those elements that make his sound so characteristic, identifiable and loved.
Soundspecies (UK)
Soundspecies is the alias of producer/musician/DJ brothers Henry and Oliver Keen, based in London. Over the past five years they have performed amongst others at Glastonbury, The Big Chill, Bestival, Sonar (Barcelona), Sunsplash (Turkey) and at Red Bull Music Academy. They released their debut album in April 2009 on independent label BurntProgress - featuring collaborations with various celebrated artists from the UK and worldwide. They count Radio 1 DJs Gilles Peterson, Mary Anne Hobbs among their supporters.
The name covers all the genre-hopping output the brothers deem befitting of the Soundspecies vibe. Generally this means rhythm-heavy, soulful, atmospheric music. Anything from a live 6-piece Moroccan Gnawa Funk Fusion band to twisted Hip Hop and deep Dub/Techno beats. At the festival they will be presenting their two-man live, part-improvised electronic Afro-Techno experience. Expect to dance!
Bunty (UK)
Bunty is a Brighton - based musician and visual artist. She is part of Beatabet collective. Live, Bunty uses her renegade multi- instrumentalism, voice, effects pedals and a mash of real and made-up languages. She whispers, bellows, beatboxes, claps, stamps and produces frenzied harmonies to create her music from scratch. Each show is different with a large portion of her sets relying on improvisation and off-the-cuff inspiration. Bunty flits deftly from beautifully serene choral soundscapes and psyche folk to stomping funkadelia and Arabian disco.
Bunty also vocalises for: UK dub 9 piece, Resonators, Renegade Eclecto Collective, Beatabet and experimental folk/soul trio Le Juki. She co-curates multi-disciplinary arts events with BEATABET!
Lüüp (GR, CY)
Lüüp is a musical collective with flutist Stelios Romaliadis at its axis. They have released two albums, "Distress Signal Code" (Musea - France) and "Meadow Rituals" (Experimedia - USA). Other collaborative members include David Jackson (Van Der Graaf Generator), Lisa Isaksson (Lisa O Piu), Andria Degens (Current 93, Pantaleimon) and Lefteris Moumtzis (J.Kriste, Master of Disguise) and more.
According to the Italian OndaRock (ondarock.it) their music is "Innovating, discovering what has always been present without being noticed. It brings to light the subconscious of European folklore music. It does so, in an original, charming and sophisticated way."
At the Lefkosia Loop Festival, Lüüp will be performing material from these two albums for the first time, with the following musicians: Stelios Romaliades (flute), Sofia Efklidou (cello) and Lefteris Moumtzis (guitar, vocals).
Elektronik Meditation (GR)
Elektronik Meditation is an experimental solo project by Jannis Anastasakis Marinos. JAM is also playing guitar for the Intravenus band and he is the builder and designer of the Jam Pedals.
Through live use of mostly analog effects pedals and instant-made loops, JAM is coming up with unique and fresh sounds that take the music from ambient to psychedelic and off limits to new territory! All sounds and music are produced live with no drum-machines and nothing pre-recorded.
Raven's Arm (CY)
This is a solo music project by Cyprus based musician Christopher Malapitan. He creates melodic compositions with his acoustic guitar, vocals, cajon drum and loop pedal. At the festival Christopher will present a collection of songs from his upcoming debut album, for the first time.
Parallel action:
Arampas (CY)
Arampas (Giorgos Ioannou and Sofronis Sofroniou), will present their recent work "Rashomon Revisited", a sound and optical collage that force inner memories to cause the vapor of here and now.
Production manager: Andreas Trachonitis
Artistic Director: Lefteris Moumtzis
Production: Louvana Diskoi
Production assistant: Mikaella Tsangari
Presentation: Antonis Boskoitis
Info & bookings: 7000 7610
Ticket prices:
20 euro for 1 day
30 euro both days
Pre-sale points:
Gatapou: 22667741
CrepaLand: 22261000
Eleven63 Studio: 22101163
When
From: Tuesday, January 3rd, 2012
Until: Wednesday, January 4th, 2012
Time: Starts at 19:30
Where
Famagusta Gate
Athina Avenue
Nicosia
,
Nicosia
1017
,
Cyprus
Email:
Phone: 22797650
Cost
€20 1 day, €30 both days
Contact
Event Tools
Share this Event

Email to a Friend
Save to Your Calendar

Google Calendar

Yahoo! Calendar

iCal (download) (subscribe)
Note: While every care has been taken to ensure the information provided is accurate, we advise you to check with the event organisers before travelling to confirm the details are correct.