International Monodrama Festival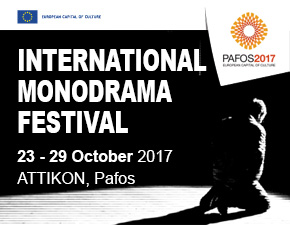 The European Capital of Culture Pafos2017 organises the 1st International Monodrama Festival with 14 performances from Great Britain, Spain, Poland, Japan, Iran, Greece, Romania, Algeria, Lithuania, Israel and Cyprus, aspiring to become an institution in the theatrical affairs of Cyprus. With two performances each day, theatre lovers will have the opportunity to watch some of the greatest actors who received awards in similar Monodrama Festivals, as well as performances that were praised for their artistic reach and importance.
Artistic Director: Minas Tigkilis
All performances will be presented in their original language with English and Greek surtitles.
The International Monodrama Festival is supported by: Medochemie, Royal Crown Insurance, the British Council in Cyprus, the Fujairah International Monodrama Festival FIMF, the Embassy of Spain in Cyprus and the Embassy of Israel in Cyprus.
With the collaboration of the Organisation EU-Japan Fest Japan Committee.
Performances
Monday - 23/10/2017
7pm - KARAGIOZIS (Cyprus, 45')
The performance, based on Lena Kitsopoulou's short story (Big Streets, 2010), distinguished itself in last year's Monodrama Platform, thus ensuring its participation in the International Monodrama Festival of Pafos2017.
The story is a particularly insightful look into childhood, that period which we all carry throughout our entire lives. The hero's course is outlined, from childhood to paternity, revealing a trauma in his psyche from his childhood years, with disastrous consequences…
Dramatisation: Herodotos Miltiadous and Andreas Araouzos
Director: Andreas Araouzos
Actor: Herodotos Miltiadous
Ages: 15+
Duration: 45'
In Greek with English surtitles
9pm - Playing Maggie, the Iron Lady (Great Britain, 65')
Pip Utton, who is world famous for his impressive personifications of Adolf Hitler, Winston Churchill, Casanova, Charlie Chaplin and many others, presents the monodrama "Playing Maggie, the Iron Lady". This time, he transforms into Britain's former Prime Minister, Margaret Thatcher, and introduces us to her philosophy, inspiration and logic, while later on he gives us the opportunity to challenge "her" through questions put forward to "her".
Script: Pip Utton
Director: Marguerite Chaigne
Actor: Pip Utton
A production by the Pip Utton Theatre Company
Ages: 14+
Duration: 65'
In English with Greek surtitles
Tuesday - 24/10/2017
7PM - KOBA / STALIN (LITHUANIA, 55')
Fudzi, Stalin's friend and comrade, tells us the story of Koba (revolutionary nickname for Joseph Stalin). For many years, Fudzi and Koba shared their last crumb of bread with each other, until they were finally able to share a common joy – the victory of the revolution. However, this joy did not last forever.
The performance reveals Stalin's contradictory character and fear that has always been the driving force behind all dictators and tyrants. Koba / Stalin is based on a story by the Russian playwright Edvard Radzinsky.
Director: Stanislovas Rubinovas
Set: Sergėjus Bocullo
Actor: Aleksandras Rubinovas
Ages: 16+
Duration: 55'
In Russian with Greek and English surtitles
9PM - KOHLHAAS (GREECE, 75')
The performance follows the famous novel of Heinrich von Kleist, which is based on real events that occurred in Germany in 1500. Kohlhaas, the story's hero, is a law-abiding horse merchant who falls victim to the injustice of a ruler of the country. In his battle against those who he feels have been unjust to him, he realises with terror that when revenge begins, there is no turning back ...
Translation, Theatrical adaptation: Nicos Alexiou
Music: Christos Xenakis
Actor: Nicos Alexiou
Ages: 17+
Duration: 75'
In Greek with English surtitles
Wednesday - 25/10/2017
7PM - BLOOD WEDDING (SPAIN, 60')
The performance is inspired by F.G. Lorca's work "Blood Wedding". The singing, the flamenco, the contemporary dance and the projections are combined with the three tragic stories that weave the narrative web. The story of the real people who inspired F.G. Lorca in 1928, the story of the mother, the moon and the bride of Lorca's drama, and the story of Federico, as the main actor in a drama that ends with an obscene and absurd death.
Script/direction: Pati Doménech
Actress: María Vidal
Ages: 14+
In Spanish with Greek and English surtitles
9PM - ANTIGONE (LITHUANIA, 50')
Inspired by the ancient tragedy of Sophocles, the performance explores ways of connecting the ancient and modern language, juxtaposing human figures in front of sequences of video images of the Chorus. Birute Mar transforms into Antigone, then to her sister Ismene, to Creon, and his son Haemon, to a guard and to the prophet Tiresias. The fragile human body on stage and the great projections of the Chorus are accompanied by music and text.
Script/direction: Birute Mar
Video: Andrious Jakucionis & Antanas Kucinskas
Set: Jolanta Rimkute
Actress: Birute Mar
Ages: 10+
In Lithuanian with Greek and English surtitles
Thursday - 26/10/2017
7PM - KIOSK (JAPAN, 60')
This monodrama by Arica Performance Company focuses on a woman who works in a tiny kiosk. Perched in her rolling chair, she sells newspapers and water. This seemingly simple premise is explored through fierce physical repetition and live electronic music, revealing the complexity of the human body's relation to physical labor in a surreal setting.
Script: Shino Kuraishi
Director: Yasuki Fujita
Actress: Tomoko Ando
Physical theatre (Silent)
9PM - MIRA (ALGERIA, 55')
While Mira receives a letter from her lover who warns her of the horrors of terrorism and fascism, we watch her as she works, laughs, falls in love - she enjoys her work and her life which is simple and quiet. Until, suddenly, everything changes, she gets arrested and tortured - a victim of the same terrorism predicted in the letter.
Director: Hichem Houari Boussahela
Production: Mosaic Theatre
Actress: Souad Janati
Ages: 15+
In arabic with greek and English surtitles
Friday - 27/10/2017
7PM - NOW I AM ALONE (ISRAEL, 50')
All the unconventional heroes of William Shakespeare are brought together in one play. The exiled king, the fool, the refugee, the socially rejected: they all have something to say about society and human nature. The play presents the story of these people and shows their unique opinion about life, humour, irony and sorrow, thus suggesting Shakespeare's own view.
Adaptation: Nick Hutchison and Dori Engel
Director: Nick Hutchison
Set/costumes: Melanie Lombard
Music: Ronnie Reshef
Actor: Dori Engel
Ages: 13+
In English with Greek surtitles
9PM - THE MISSON BOX (GREECE, 75')
The performance is based on the homonymous novel by Aris Alexandrou, which has been characterised as one of the most important works of Modern Greek literature. At the end of the Greek civil war, a guerrilla group undertakes the transfer of a box of unknown content, passing through hostile territory. Its recipients are commanders of a town loyal to a political party. Only one guerrilla survives during this mission and finally manages to deliver the box, which turns out to be empty. The guerilla is imprisoned by his own companions for sabotage…
Adaptation/direction: Fotis Makris, Cleopatra Tologgou
Actor: Fotis Makris
In Greek with English surtitles
Saturday - 28/10/2017
7PM - FROM FRONT AND BEHIND (POLAND, 50')
The performance is historically focusing on Poland in the 18th century, just before it loses its sovereignty, after its third division. In his novel, Karol Zbyszewski satirises politicians from opposing camps, the clergy, the army and all social classes. Zbyszewski ridicules heavy drinking, laziness, recklessness, attachment to empty slogans and gestures, false religiousness, political and domestic conflict, making the whole Polish society responsible for the partitions of Poland.
Text adaptation: Stanisław Miedziewski & Mateusz Nowak
Director: Stanisław Miedziewski
Actor: Mateusz Nowak
Ages: 16+
Duration: 50'
In Polish with Greek and English surtitles
9PM - THE CLOWN (ROMANIA, 70')
This performance tells the love story of Hans and Marie, from the novel of Heinrich Böll which features a "Clown" as its main character, a professional artist, an observer of life that transforms the daily absurd into pantomime. When his loved one abandons him for religious reasons, the "Big Nothing" seems to be the only pantomime performance left for him… to play.
Director: Anca Maria Colțeanu
Music: Ovidiu Savu
Costumes: Matei Vladimir
Actor: Alex Buescu
Ages: 16+
Duration: 70'
In Romanian with Greek and English surtitles
Sunday - 29/10/2017
7PM - REBECCA (CYPRUS, 40')
A performance inspired by the emblematic novel "One Hundred Years of Solitude" and the homonymous heroine of Gabriel García Márquez. The audience enters the theatre, as if entering Rebecca's home and, at the same time, is haunted by her. The performance uses language not as a narrative medium, but as a soundscape that poetically carries the atmosphere into the space. The body becomes the canvas on which her memories are projected.
Concept: Charalambia Theophanous
Costume: Gina Constantinou
Visual design: Elias Neophytou
Actress: Charalambia Theophanous
Duration: 40'
Physical theatre (Silent)
9PM - MYSTERIOUS GIFT (IRAN, 30')
Iranian performer Yaser Khaseb will mesmerise you with his storytelling. Part dance, part performance art, he invites us into his culture to see how universal the human experience truly is and to take this opportunity to connect our stories. Khaseb has crafted a show invented using various pieces, thus surpassing any language barriers. He begins with a look at traditional Persian performance, encouraging the audience to find human connection through the act of physical narration and puppetry, to show us his battle with the self, and how easy it can be to lose that battle.
Actor: Yaser Khaseb
Duration: 30'
Physical theatre (Silent)
Tickets: www.soldoutticketbox.com
When
From: Monday, October 23rd, 2017
Until: Sunday, October 29th, 2017
Time: Starts at 19:00
Where
Contact
Event Tools
Share this Event

Email to a Friend
Save to Your Calendar

Google Calendar

Yahoo! Calendar

iCal (download) (subscribe)
Note: While every care has been taken to ensure the information provided is accurate, we advise you to check with the event organisers before travelling to confirm the details are correct.