Clara Schumann - 200th Anniversary of her birth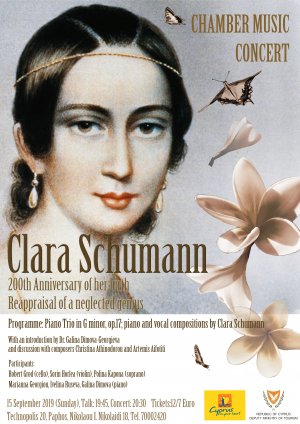 A reappraisal of a neglected genius.
Clara Wieck Schumann (1819-1896) was an accomplished German pianist and a composer of the Romantic era. Although very well respected as a virtuoso performer, she did not get the same level of recognition as a composer. Today, her piano, vocal and chamber music was rediscovered and performed again in concert halls. The chamber music concert at Technopolis 20 in Paphos that will take place on Sunday, 15th of September at 8:30pm, celebrates Clara Schumann's 200th birthday (13th September 1819) by presenting her impressive compositional work to the audience.
The program includes her masterful Piano Trio, op.17, piano compositions such as Prelude and Fugue in B flat major, op.16; Witches Dance op.5, No.1; Four Fleeting Pieces, op.15, Nocturne op.6, No.2, as well as Songs for voice and piano, op.13 performed by Robertas Grod (cello), Sorin Horlea (violin), Polina Kapona (soprano), Marianna Georgiou, Ivelina Ruseva, Galina Dimova (piano).
An introduction by Dr Galina Dimova-Georgieva and a pre-concert talk with the composers Christina Athinodorou and Artemis Aifotiti will take place at 19:45.
A precocious talent, Clara started composing at young age, under the guidance of her father. At 15, she performed her Piano Concerto in A minor in Leipzig Gewandhaus under the direction of Felix Mendelssohn. In 1840, Clara married the composer Robert Schumann against her father's will. She continued composing during the sixteen years of her marriage. In 1856, her husband died in a mental asylum. Clara abandoned composition to return to the concert stage and support her family of seven children (one of her eight children died in infancy).
Entrance: 12 euro /7 euro (students)
Reservations are necessary at 70002420 (calls only)
Sponsor: Deputy Ministry of Tourism
A few words about the musicians:
Artemis Aifotiti was born in Nicosia, Cyprus, in 1986. She began her musical training at the age of 10 with Mrs Elena Matsa (piano) and later on she continued her studies at City University, London, where she studied piano with Norman Beedie at the Guildhall School of Music and Drama (GSMD) and composition with Professor Rhian Samuel. In 2007 she obtained her Bachelor of Music with Honours and in 2008 Master of Arts in Instrumental and Vocal Composition. She has had her pieces performed by various ensembles including the prestigious London Sinfonietta, in well known venues such as LSO St. Luke's and The Warehouse, Waterloo. Her pieces have been performed in Cyprus, Malta, Italy, UK and USA. Since her return to Cyprus in October 2008, she worked with several performers and with organizations and ensembles such as the Cyprus Symphony Orchestra, the Pharos Trust, Avaton Contemporary Music Festival, Cyprus Clarinet Studio, Center for Cypriot Composers, Chronos ensemble, Moscow Contemporary Music Ensemble, the Friends of ARTE Society, Commandaria Orchestra and with the programme WINMUST new music series 'Incontri con le Compositrici'.
Composer Christina Athinodorou (b.1981, Paphos) is increasingly rising into prominence, with a catalogue of more than sixty works to date. Described as "atmospheric, strangely fascinating" and "substantial" by international press, her music has been performed in festivals worldwide, including the Venice Biennale, Grafenegg, ISCM World New Music Days, Festival d'Aix-en-Provence etc; by notable performers including the Tonkünstler Orchester, ONDIF, Athens State Orchestra, Ensemble Alephetc. She has been commissioned by Radio France, Musik der Jahrhunderte, Onassis Cultural Centre etc. Also active as a conductor, she has worked with the Orquestra Sinfσnica do Porto, Jyvδskylδ Sinfonia, London Sinfonietta etc.Christina studied composition with Julian Philips at the Guildhall School of Music and Drama in London. Later she studied privately with Philippe Leroux in Paris. She also took courses at the UNT, CNSMD de Lyonand IRCAM.Currently based in Cyprus, Athinodorou works internationally, while maintaining her strong bonds with both the UK and France.
www.athinodorou.com
Dr. Galina Dimova - Georgieva studied piano at the Hristina Morfova Music Lyceum in Stara Zagora, Bulgaria. She graduated in 1990 from the Academy of Music, Dance and Fine Art in Plovdiv with an M.A. in Music Education and Piano Pedagogy. In 2017, Galina obtained a PhD on the piano compositions of the Cypriot pianist and composer Nicolas Economou under the advisory of Prof. Dr. Romeo Smilkov. She presented her work at the International Scientific Conference "Art and Education" in Plovdiv, Bulgaria (2014); "Modus-Modi-Modality"- European University, Nicosia (2017); Moesgaard Museum – Aarhus, Denmark (2017); National Academy of Music – Sofia, Bulgaria (2017); ECMTA Autumn Gathering – European University, Nicosia (2018). She has made multiple publications in English and Bulgarian. Galina performs extensively as a soloist and is an avid chamber musician. She collaborated with the video artist Yiannos Economou as a composer. Galina is the Head of Music at The International School of Paphos and teaches piano at Paphos Music Lyceum.
Ivelina Ruseva was born in Ruse, Bulgaria. She began piano lessons at the age of seven and at ten was accepted in the music school "Vesselin Stoyanov" in Ruse. In 1992, she was accepted at the National Music Academy "Pancho Vladigerov" in Sofia from which she graduated with honors in 1997. She participated in many concerts and competitions for solo piano during her studies. In 2019, Ivelina completed her Master's Degree in Piano Performance under the supervision of Prof. Ludmil Angelov at the New Bulgarian University in Sofia. She lives in Paphos since 1999 where she teaches piano and continues her musical career playing in concerts as a soloist or in ensembles.
Marianna Georgiou was born in 1993 in Paphos, Cyprus and was classically trained by the Bulgarian piano tutor, Ivelina Ruseva. She attained her first Soloist Piano Diploma (ATCL) at the age of seventeen. In 2011, she began her studies at the University of Nottingham under the supervision of Brenda May and achieved a scholarship and a First-Class Honours for the Bachelor's degree based on Piano Performance. In 2015, she attained her Master's degree in Piano Performance and Performance Practices from the University of Nottingham. She has taken part in several masterclasses and concerts around UK and Cyprus (Masterclass – Janina Fiaklowska/Clare Hammond, Derby Arts Festival - second prize, Pre-Concert artist at the Royal Albert Hall of Nottingham for Czech Philarmonic). In her most recent years, Marianna has performed as a soloist and as part of ensembles around Cyprus. Since September 2016, she has taught piano at the Music Schools of Paphos.
Sorin Alexandru Horlea was born in Bucharest in 1975 and started the violin at the age of eight. He graduated from George Enescu Music High-School where he studied under maestro Octav Savitchi and Ciprian Porumbescu Music University where his Professor was maestro Daniel Podlovschi. He took part in summer-courses with Viktor Pikaizen and Eugen Sarbu. In 1997 he won the third prize at the George Enescu Childhood Memories contest in Bucharest. During his university studies he played in the Radio Chamber Orchestra, Philarmonia Chamber Orchestra and in Bucharest Opera, but mainly in George Enescu Philharmonic. In 2000 he moved to Lebanon to fulfil his position in Lebanese National Symphony Orchestra, where he became the assistant concert master. He moved to Cyprus in 2005 and since then is a member of the Cyprus Symphony Orchestra. He is also working as an associate teacher of the Cyprus Youth Orchestra. Alongside his output as an orchestral musician, he is an active performer as a soloist and in various chamber groups throughout Europe and Middle East, playing not only classical but also jazz and folk music. He was a member of Cyprus String Quartet, and the folk band Danube Quartet. He regularly performs contemporary music as he is a resident musician at the Avaton Festival in Limassol, a member of the Chronos Ensemble, and of the Ensemble Cyclamen. Recently, he recorded a CD called Nocturnal Ballads for Violin and Piano.Sorin is playing on a modern violin by Stephan Sultanian.
Robertas Grod was born in 1991 in Lithuania and studied in Vilnius Balys Dvarionas Music School (class of J.Veiverienė). He is laureate prize winner of national competitions (B. Dvarionas, J. Urba). Since 2010 Robertas has been studying at Moscow State Conservatory in the class of Prof. N. Shakhovskaya. In 2012 he won the 1st prize at Kozolupov competition in Moscow. In 2016 he graduated from the conservatory with honours. Since then he lives in Cyprus and works in a special programm for children CYSS. Robertas regulary gives concerts in Cyprus and Lithuania.
Polina Kapona was born in 2001 in Paphos. She has been studying vocal performance with Ero Kleitou and recently with Alex Economou. In 2019, Polina attained her first Soloist Diploma (ATCL) in Musical Theatre from Trinity College. In addition, she has passed Grade 8 in classical singing, musical theatre (Trinity College) and in music theory (ABRSM). Polina has performed as a soloist at numerous concerts and festivals around Cyprus. In 2017, she won the first prize in the intermediate section of Singing Star Power in Edinburgh, Scotland. Her highly expressive voice has been praised at several occasions. Polina takes lessons in ballet and modern dancing and is a laureate of international awards (3rd prize at the Contemporary Star Power, Edinburgh). She is currently studying at The International School of Paphos, where she completes her A Levels.
When
Sunday, September 15th, 2019
Time: 19:45 - 22:30
Where
18 Nikolaou Nikolaidi Avenue

Paphos
,
Paphos
8010
,
Cyprus
Email:
Phone: 70002420
Cost
€12 / €7
Event Tools
Share this Event

Email to a Friend
Save to Your Calendar

Google Calendar

Yahoo! Calendar

iCal (download) (subscribe)
Note: While every care has been taken to ensure the information provided is accurate, we advise you to check with the event organisers before travelling to confirm the details are correct.