9th Documentary and Animated Film Festival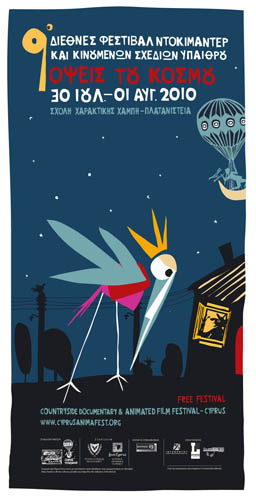 For the 9th year in a row, the stone-built village of Platanistia unfolds a wide variety of screenings for viewers of every description. For three starlit nights the darkness becomes our ally, gently embracing a handpicked selection of documentaries and animation shorts. After last year's impressive turn-out, the Countryside and Animated Film Festival will be expanding its artistic domain via a second open-air screen hosting a series of experimental film musings.
Playfulness prevails in the non-fiction section, as this year's edition features three Greek documentaries showcasing a magical garden, an alley cat and a guitar, the perfect ingredients for a carefree summer!
T4Trouble by Dimitris Athiridis
When you've spent your youth jamming with Sidiropoulos, you've turned down studio time with Savopoulos and you've been in a band with Papazoglou, then it's almost incomprehensible that no one should know your name. But who in the world was this charming young rebel, walking the streets of Thessaloniki with a tight pair of jeans and a leather jacket, looking like the coolest cat in town? And how come he never put out any records? Ladies and gentlemen, I give you Terry Papadinas, a rock 'n roll legend that never was – except in his own head.
National Garden by Apostolos Karakasis
There's only one place in downtown Athens that can drown out the traffic roar: the national garden, an urban oasis brimming with lush vegetation and winding paths, offering much-needed shelter to a host of characters of every age and description, from casual visitors to die-hard regulars. Here's where they escape from routine, express their desires, reveal their dreams and wonder at the relentless passage of time. Little do they know that life has many more surprises in store.
Zorro the Cat by Selana Vronti
Zorro is a streetwise alley cat with more charm than he knows what to do with. He has his women, his regular hang-outs, his people and someone to watch over him. Journalist and occasional filmmaker Selana Vronti, documents the adventurous life of her beloved pet in the streets of Psirri and Monastiraki, where he meets his friends, fights his rivals and woos the ladies, offering a radically different view of the city centre. If you're faint of heart you might want to skip this one, as Zorro is a risk- taker and his life in constantly in danger!
Animation line-up
This refreshingly unorthodox festival, setting up shop in the depths of the Cypriot countryside, breaks new ground by alternating between documentary and animation every single day. Here's a small taste of what's in store:
Prepare to be blown away by the Brothers Quay, identical twins with a penchant for Victorian decadence. After the Street of Crocodiles, they take to polish fiction once again, only this time around it's Stanisław Lem's The Mask that gets the Quay treatment. Do robots have a consciousness? And if so, how do they perceive themselves? On the other side of the spectrum, mainstream animation also makes a play for your heart with a touch of Hollywood glamour: The Lady and the Reaper, an Oscar nominated short, is produced by none other than Antonio Banderas! Featuring the centuries-old struggle between death and the dying, director Javier Recio Gracia peppers the proceedings with a wily sense of humor, as this old gal isn't as fragile as she seems!
Experimental line-up
The second festival screen will bring you a little closer to the experimental side of documentaries starting with Sea Change, a film that basically consists of the same scene shot five times in five days on a seaside location somewhere in the UK. Shedding any semblance of traditional narrative, it's an aesthetic commentary on landscape and the deterioration thereof, as the peaceful trailer park in the heart of this unconventional offering is soon to be ravaged by construction. Skipping a continent or two, The Clown Children take us on a roller coaster ride to the depths of South America, where two children make a living juggling oranges amidst passing cars. It may be just another ordinary day to them, but it's a whole new world to us, far away and yet so close.
When
From: Friday, July 30th, 2010
Until: Sunday, August 1st, 2010
Time: See Description
Where
Plataniskia
,
Limassol
Cyprus
Cost
Free
Contact
Event Tools
Share this Event

Email to a Friend
Save to Your Calendar

Google Calendar

Yahoo! Calendar

iCal (download) (subscribe)
Note: While every care has been taken to ensure the information provided is accurate, we advise you to check with the event organisers before travelling to confirm the details are correct.