10th Countryside Documentary & Animated Film Festival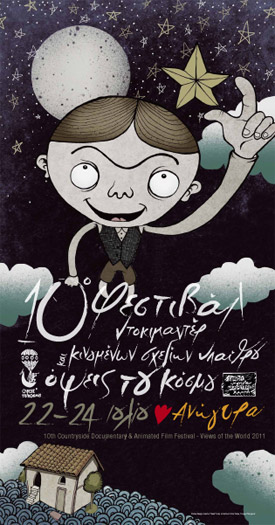 The Countryside Documentary and Animated Film Festival has a birthday and it's a big one. Organized for the 10th year in a row, it has decided to move house and is hoping to take you along for the ride. Leaving behind the traditional village of Platanistia that had been its home for the past 9 years, it will be pitching a snow white screen at the central square of nearby Anogyra promising to make the three starry nights, from the 22nd to 24th of July, unforgettable.
Programme:
22 July
20:45
Chico & Rita
Animation
Javier Maricsal, Fernando Trueba, Tono Errando
Spain / UK, 2010
Cuba, 1948. Chico is a young piano player with big dreams. Rita is a beautiful singer with an extraordinary voice. Music and romantic desire unites them, but their journey - in the tradition of the Latin ballad, the bolero - brings heartache and torment. From Havana to New York, Paris, Hollywood and Las Vegas, two passionate individuals battle impossible odds to unite in music and love. Academy Award winning director Fernando Trueba and Spain's most celebrated designer Javier Mariscal create a passionate, animated Cuban love story.
22:30
International Animation Panorama
Animation
A selection of short animated films from the global festival circuit, including several award-winning entries.
A MORNING STROLL
Grant Orchard (UK)
DUCK, DEATH AND THE TULIP
Matthias Bruhn (Germany)
SWIMMING POOL
Alexandra Hetmerova (Czech Republic)
THE FANTASTIC FLYING BOOKS OF MR MORRIS LESSMORE
William Joyce & Brandon Oldenburg (USA)
IN A PIG'S EYE
Atsushi Wada (Japan)
ON THE WATER
Yi Zhao (The Netherlands)
BACH
Anton Dyakov (Russia)
THE GOAT AND THE WELL
Ben Cady (UK)
THE COW WHO WANTED TO BE A HAMBURGER
Bill Plimpton (USA)
MOBILE
Verena Fels (Germany)
23 July
20:45
Dimitris Alithinos
Documentary
HAPPENINGS 2010
MIR FESTIVAL 201Ο
Dimitris Trikas
Greece, 2010-2011
The documentary centers around Dimitris Alithinos' 'Happenings' which took place on September 17, 2010 in the streets of Athens, in the aftermath of a hot and decadent summer. The points of reference are the sidewalk in front of the Agios Dionysios church in Kolonaki, the corner of Stadiou and Benaki Streets and the Athens Central Market.
21:15
Best of Stuttgurt Trickfilm Festival
Animation
A handpicked selection of films from the Stuttgart Animated Film Festival. Attracting more than 70.000 people a year, the Trickfilm Festival - as it has come to be known - has 18 years of programming experience under its belt and a mythical treasury of animated treasures that keeps multiplying. Suffice to say that the latest crop yielded more than 1000 submissions! Every year the
cream of the crop packs its bags and travels the world, and this year it will finally head our way.
23:00
Clive Walley - TRIBUTE
The 10th Countryside Documentary and Animated Film Festival honors Clive Walley, an artist that goes above and beyond the realm of animation. Walley started out as a fine artist who simply decided to transfer his brush strokes to the silver screen. In order to keep his inspiration intact, he devised a new technique using oil paints and successive sheets of glass that he later combined with
photography. The result was an explosion of sensual color that maintained the volume of an oil painting but still managed to make each brush stroke throb with life, as if it had never touched the canvas!
24 July
20:30
Charalambos Dimosthenous- TRIBUTE EVENT
Documentary & Photography Exhibition
This year's event will pay tribute to a very special Cypriot personality: the dialect poet Charalambos Dimosthenous. The tribute will include a screening of "The footprints of Aphrodite", a documentary by local filmmaker Panikos Chrysanthou, followed by a photography exhibition of his own material on the life of the poet.
23:00
Allegro Non Troppo
Animation
Bruno Bozzetto
Italy, 1976
An enthusiastic filmmaker thinks he's come up with a totally original idea: animation set to classical music! When he is informed that some American has already beat him to it, he decides to do his own version using an orchestra mostly comprising old ladies and an animator he's kept locked in a dungeon! Featuring six pieces of classical music, the film is considered a parody of Disney's 'Fantasia'.
When
From: Friday, July 22nd, 2011
Until: Sunday, July 24th, 2011
Time: See Description
Where
Contact
Event Tools
Share this Event

Email to a Friend
Save to Your Calendar

Google Calendar

Yahoo! Calendar

iCal (download) (subscribe)
Note: While every care has been taken to ensure the information provided is accurate, we advise you to check with the event organisers before travelling to confirm the details are correct.