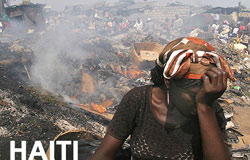 Nicosia Senior School Professor, Ioannis Karayiannis, plans to walk 320 kms during his
14-day Easter break in an effort to raise money and awareness for the earthquake victims in Haiti. 35-year old Karayiannis has prepared a Green Line route which will traverse through 43 villages along Cyprus' green line, starting in Protaras on March 27 and ending in Kato Pyrgos on April 9, 2010.
His reasons are simple- to help the less fortunate in a time of great need! And he will do this with the enthusiastic support of Fostiras Egomis Sports Club, and a dear team of friends and family.
Having lived his life in Cyprus, the United Kingdom and Mexico, Karayiannis' career has span around charitable work and social service.
'In Mexico, the disparity between social classes was so apparent and all that poverty made me realize how privileged I have been in my life,' he said of his 10-year stay in this Latin American country, where he worked as a high school and university professor in the state of Jalisco. There he also helped to promote education in the remote areas of the state, benefiting the indigenous population. 'Since those life changing years, I like to contribute every time I have the opportunity to help the less fortunate,' he added.
Following his teaching career in Mexico, Karayiannis returned to his homeland and worked for the Red Cross and Doctors of the World, what he describes as a truly rewarding and learning experience. As of September 2008, he has been teaching Economics, Critical Thinking and Business Studies at the Senior School, Nicosia.
All funds raised for Karayiannis' charity walk will be sent to Haiti through the United Nations Forces in Cyprus. Anyone interested in supporting Karayiannis' efforts may contact him on 99785488 or [email protected]
Donations may be made at the following banks:
Hellenic Bank – Account Number: 105-10-524276-00
To follow Karayiannis' route or learn more about his walk, you may check out his course details on charitywalk.gofree.info website or you can join the Facebook group Charity Walk – in aid of Haiti.