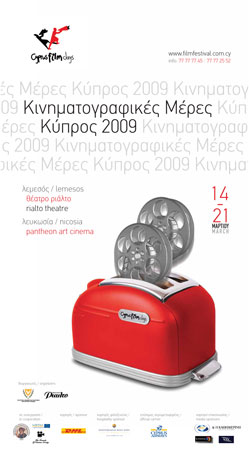 The 7th edition of the international film festival 'Cyprus Film Days', organized by the Ministry of Education and Culture and the Rialto Theatre, will place between the 14th and 21st of March 2009 in Limassol (Rialto Theatre) and Nicosia (Pantheon Art Cinema). The festival's program is featuring a selection of award winning films from all over the world.
'Cyprus Film Days' goal is to promote independent, innovative and high-quality films that deal with social, cultural, political and other issues that appeal to audiences worldwide, films that are entertaining as well as thought provoking. Furthermore, the festival serves as an annual gathering for film-industry professionals from Cyprus and abroad to discuss and exchange their views on filmmaking.
The 'Cyprus Film Days' Festival is organized within the framework of Cinema Education development in Cyprus sustained over the last six years by the Ministry of Education and Culture and the Rialto Theatre.
Festival Highlights
A new integral feature of this year's festival is "Cinema and the City", an Educational Program of themed screenings, aimed mainly at University and College students. The program is organized in an effort to encourage the participation of the educational community in general to the festival.
As Dr. Constantinides commented, these screenings will focus on "the concept of setting and more specifically on the representation of the city and its role in a film as a character and carrier of ideological and mental connections resulting from the differences in infrastructure and architecture that a director chooses to highlight". Prior to the screenings there will be short lectures of educational nature appealing both to students and the general public, with a focus on the different traditions represented by the following films:
Τhe Third Man (Carol Reed, 1949)
Alice in the Cities (Wim Wenders, 1974)
Blade Runner (Ridley Scott, 1982)
Night on Earth (Jim Jarmush, 1991)
Furthermore, there will be a set of screenings dedicated to a rising film director who will be invited to attend the festival and talk about his or her work.
Cinema professionals will also have the chance to participate in specialised workshop that will organized during the festival.
Main Screenings Program
This year's festival hosts a total of 14 films from Europe, Asia and Africa, including the Cyprus Premier of the new film by Cypriot director Christos Georgiou, entitled Small Crime. Other films on the program are Waltz with Bashir Cherry Blossoms, Lemon Tree , Lorna's Silence, Salt of This Sea, The Band's Visit, Four Nights with Anna etc.
In keeping with the festival's tradition, film enthusiasts will once again have the opportunity to vote for the best film as well as to talk with filmmakers and actors about their film.
For more information as well as for the complete list of films, call 77772552 or 77777745 or visit www.filmfestival.com.cy